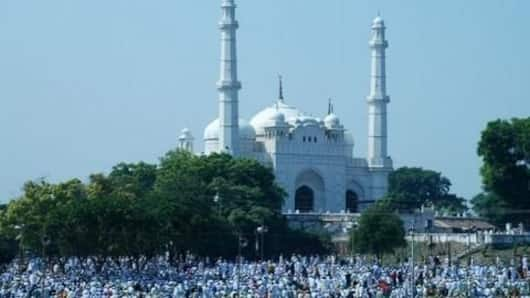 Lucknow: BJP councilors want Lakshman-statue near iconic mosque, controversy erupts
Two Bharatiya Janta Party councillors- Ram Krishna Yadav and Rajneesh Gupta- wrote to Lucknow Mayor Sanyukta Bhatia regarding construction of Lakshman statue near the iconic Teele Waali Masjid, a move opposed by Muslim clerics.
The councilors believe the mosque was created after razing a temple, around 350 years ago.
They also argue Lucknow was initially named Lakhnavati or Lakshmanpuri. A row has erupted.
The campaign for Lakshman statue started decades ago
The demand to install a statue near the masjid found root during the Ram Janmabhoomi movement in the late 1980s. But the campaign died down.
In 1993-94, the idea was floated again but met strong opposition from Muslim clerics.
Former Lucknow MP Lalji Tandon claimed an excavation will prove a Lakshman temple existed, "just like Ayodhya."
But Muslims don't agree with these claims.
We can't offer namaz in front of idol, Imam explains
Muslims claim the mosque was constructed on Mughal Emperor Aurangzeb's order when he visited Lucknow. The tomb of famous Muslim scholar Shaikh Peer Muhammad is 20 meters away from the mosque.
Clerics said thousands of Muslims visited the mosque during Ramzan to offer namaz.
Imam Maulana Fazl-e-Mannan added they can't offer namaz in front of idols, as Islam bans idol-worship.
Love India news?
Stay updated with the latest happenings.
Yes, notify me
Statue near mosque will inflict tension, feels some clerics
"The statue should be constructed inside some temple. It's shouldn't be installed at any place where there could be tension," said Shia cleric Maulana Saif Abbas. Sunni cleric Sufiyan Nizami also had similar opinions, and said a statue would inflict tension.
Municipal body passes resolution to install statue
The Lucknow Nagar Nigam Executive Committee passed a resolution to install the statue, revealed Sanyukta Bhatia. The proposal will be discussed at a Lucknow Municipal Corporation (LMC) meeting next month.
The first step was cleared on the ground that Lucknow was earlier called Lakhnavati or Lakshmanpuri.
However, an approval from Archaeological Survey of India will be required as the area comes under their jurisdiction.
Statue won't be installed at mosque's land, Bhatia says
"The statue will not be installed at the land of the mosque where namaz is held but planned at roundabout outside it. A final decision is yet to be taken in this regard. If anyone has any objections, we may reconsider the decision," Bhatia said.