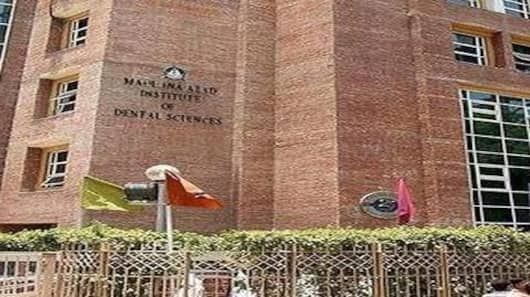 Delhi's MAIDS tops list of 'best dental college' in India
The Maulana Azad Institute of Dental Sciences (MAIDS), under the Government of NCT of Delhi, has been ranked the "Best Dental College in India" for the seventh year in a row.
The evaluation was done on the basis of reports of independent rating agencies of Hansa Research, Drshti Strategic Research Services, and Nielsen India.
MAIDS outshone 310 dental colleges to become "No. 1".
MAIDS, only dental hospital in India accredited by NABH
MAIDS is the first and only dental hospital in India to be accredited by National Accreditation Board for Hospitals and Healthcare Providers (NABH).
The institute offers a five-year undergraduate program, Bachelor of Dental Surgery (BDS), with an annual intake of 40 students and is the only government institute to offer a postgraduate program, Master of Dental Surgery (MDS), in all nine dental specialties.
Institute's conducive environment gives students sense of responsibility: Principal
Professor Mahesh Verma, Director-Principal, MAIDS, said the institute's unique and conducive environment nurtures each student and gives him a unique sense of responsibility and passion.
The institute is also the only dental institute in the country to have partnered in the development of the indigenous dental implant system in India under NMITLI in collaboration with the Council of Scientific and Industrial Research (CSIR).