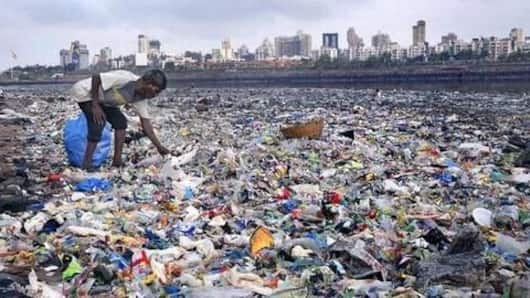 In 10 days, Maharashtra relaxes plastic ban yet again
The Maharashtra government is a confused lot. Since a plastic ban was imposed 10 days ago, it has changed rules at least twice.
The latest notification comes after intense lobbying: the government has now allowed e-commerce companies to use plastic packaging for another three months, subject to conditions.
Though this was hailed by the market, firms are clueless about the exact norms to follow.
All about the ban: Rules, penalties and more
On June 23, Mumbai joined the likes of Seattle (US), Montreal (Canada) and Hamburg (Germany), which have banned the sale, distribution and storage of single-use plastic.
The items included in the ban are high-quality carry bags, plastic, thermocol decorative items, disposable cutlery and non-woven polypropylene bags.
Penalties can go up to Rs. 25,000 and imprisonment for three months.
First change: Retail packaging at general stores exempted
After protests, the government announced on June 27 it is exempting retail packaging at general stores.
However, there are conditions: the plastic can't weigh below 2gm, the manufacturer/retailer's name must be printed on it, and they've to set up a buyback-mechanism within three months.
Under buyback, citizens'll be able to sell plastic packaging to retailers, who will then sell them to manufacturers or recyclers.
Love India news?
Stay updated with the latest happenings.
Yes, notify Me
Second change: E-commerce companies exempt for three months
Yesterday, the government announced it is now exempting e-commerce sites for three months.
Like retailers, they too will have to come up with a mechanism for recycling and disposal of plastic packaging via a buyback plan, plus ensure alternative packaging material.
This comes after representatives of Amazon, Pepsi, H&M and Coca-Cola as well as lobby groups met government officials requesting relaxation.
Other changes: Yet another modification in PET bottle guidelines
The latest order also bans plastic water bottles smaller than 200ml, and exempts medical equipment and drugs from the ban.
Interestingly, in March, the government had banned all PET bottles less than 500ml. It was lifted in April before being modified recently.
The government said last week it is mulling bringing tetra packaging and multi-layered packaging under the ambit of the ban.
Higher charges, fall in consumers lead to protests
Most citizens have hailed the ban despite difficulties in daily-life, but the market has urged relaxation owing to its impact on expenses.
Manufacturers and sellers are having to look for alternatives, which are almost always costlier than plastic.
To cover up, restaurant owners decided to hike charges by 20%-25%, but it led to a dip in orders.
However, good things come at a cost.