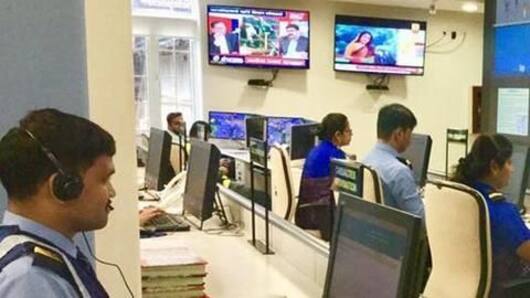 Mumbai: Prank calls, asking for 'jalebis', make officials' life miserable
The Disaster Management Cell that is based out of Brihanmumbai Municipal Corporation (BMC)'s headquarters in Fort, Mumbai, is finding it difficult to help those in need.
The reason? The 49-member strong team is bogged down by fake calls. The team spends 40% of its time attending hoax callers, who demand jalebis, samosas.
In many cases, a cat's meow or dog's bark is heard.
Fake fire-alarms/accidents are being reported to disaster management cell
The cell attended 1.6 lakh calls last year, but the frequency of false alarms has impacted the department's efficiency.
Officials said sometimes the callers order food, and on other occasions, they report fake fire, accidents or presence of a snake in the house. Sometimes the person on receiving end just hears animal voices like meows/barks.
This has deeply affected the cell's daily work.
The cell now sends one vehicle on the spot
The cell has now found a solution to these prank calls. They first send only one vehicle to the spot, and later send back-up if the call is true.
"But there is a chance of losing golden hours to save life and property," an official said.
Tasked with mobilizing Fire Brigade, Navy, NDRF (National Disaster Response Force) to the site, the cell can't afford delay.
Love India news?
Stay updated with the latest happenings.
Yes, notify me
Officials' plea to callers hasn't yielded anything
Credits:
The officials said they request callers against such pranks but to no avail. He said reporting to police is one way but it's difficult to trace such callers.
Civic activist Jitendra Gupta called this an absolute lack of social responsibility and suggested giving punishment might help.
Act 54 of the Disaster Management gives upto one year jail to those raising or circulating false alarms.
Last year, fake WhatsApp forward warned about cyclone Phyan
Last year, a WhatsApp message claimed about Mumbai being approached by a cyclone Phyan, which was rumored to be more intense than 2005 havoc. The message claimed schools had been ordered to remain shut by education minister Vinod Tawde.
But the message was false, and BMC asked the police to take action against gossip-mongers.
Undoubtedly, the menace of fake forwards needs to be curbed.