5 must-have official apps for frequent train travelers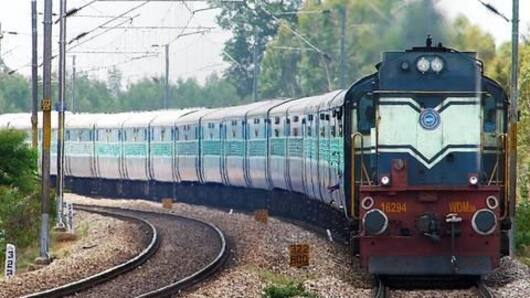 Indian Railways, which started its services 165 years ago, is considered the country's most economical mode of transportation.
It is also a shining example of Digital India: in the last four-five years, it has increased its app count drastically.
What started with basics, like booking tickets, it now offers an app for almost every service, like ordering food on trains and booking parcels.
Here are 5 such apps.
In context
5 apps by Indian Railways
App #1
IRCTC Rail Connect: Book tickets from anywhere in India
With the Indian Railways' official app 'IRCTC Rail Connect' you can search, book and pay for a rail ticket using the IRCTC e-wallet from anywhere in India.
The app lets you login into the portal with a self-assigned PIN without the hassle of entering username and password everytime you log-in.
The app also provides options to change the boarding points.
App #2
Menu on Rails: Know all food items available on train
You should also download 'Menu on Rails' app which tells you about the food items which will be available on your train and their prices.
The food menu on the app is divided into four types of train groups- Mail/Express/Humsafar, Rajdhani/Shatabdi/Duronto, Gatiman Express and Tejas Express.
The app has filters for vegetarian and non-vegetarian food.
Love India news?
Stay updated with the latest happenings.
Notify Me
App #3
Rail Madad: For all your Indian Railways complaints
The next must-have Indian Railways app is 'Rail Madad' which is meant for registering your complaints.
Using this app, you can lodge a complaint regarding any issue with an Indian train and can check the real-time response of the Railways on your complaint.
The app also displays various helpline numbers and provides a facility for direct calling for cases where immediate assistance is required.
App #4
Trainman: A one-stop solution for all your train needs
The next Indian Railways app that has got a mention in our list is 'Trainman' which serves as a one-stop solution for all your train requirements.
Using this app, you can book a train ticket, check seat availability and your Passenger Name Record (PNR) status, as well as calculate your refund on canceled tickets.
This app also lets you book food on trains.
App #5
Where is my Train: Live-status of trains, that too offline!
Using the Indian Railways app 'Where is my Train' you can get the live status of a train along with its up-to-date schedule, even without internet connectivity.
This app also gives you information about the seat/berth layout in the coach and shows the number of the platform at which the train is scheduled for arrival.
This ends our list. Happy train traveling!
The technology is moving faster than a train why do people need 5 apps. Why don't you make one application that could have all the 5 features?
Asked on 08-07-2018 by Srisailam Yadav
Answered by NewsBytes
Including all the features in just one application will make it slow and confusing to use. Applications are made to be user-friendly. If the purpose of each application is specified, such as for food, for booking, or for any inquiry and help, it will become easier for users of all strata.