India
Flash floods affect over 6-lakh people in Assam, Arunachal Pradesh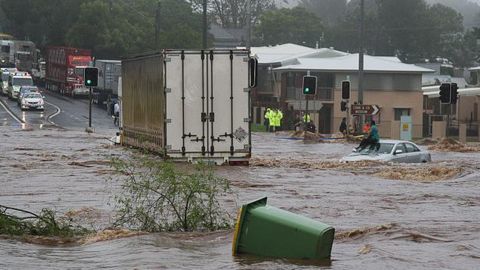 Heavy rainfall triggered landslides and floods in several districts of Arunachal Pradesh and Assam over the last couple of days.
7 were reported dead; 600,000 were displaced in Assam and over 100 families in Arunachal were rendered homeless.
Lakhimpur, Goalpara and Tinsukia are the worst hit districts in Assam whereas Lohit, Namsai, East Siang, Lower Dibang Valley and Changlang have been affected in Arunachal.
In context:
Flood situation in Assam and Arunachal Pradesh worsens
What are flash floods?

Flash floods are caused by

heavy rains

which may be associated with several factors including severe thunderstorms, hurricanes, tropical storms, or meltwater from snow resulting in rapid flooding of low-lying areas like rivers, dry lakes and basins in a very short period of time.
25 Jul 2016

Flash floods affect over 6-lakh people in Assam, Arunachal Pradesh
Love India news?


Stay updated with the latest happenings.
Threat to forest reserves

Impact on wildlife habitats
The rising waters of the Brahmaputra have inundated large portions of the Pobitora Wildlife Sanctuary and Dibru-Chaikhowa National Park in Tinsukia.
About 60% of 430-sq km area of Kaziranga National Park is under water. The Divisional Forest Officer of the park said that almost 50 anti-poaching camps have been submerged.
There has been no large-scale migration of animals to higher ground yet.
Extent of damages

Loss to land and livestock
Flood water has affected 46,000 hectares of agriculture land in 13 districts in Assam.
Fishery and poultry sectors have been severely affected.
The flood waters have damaged houses, bridges, and road links to many interior places in various flood-hit districts.
The swollen Brahmaputra and its tributaries have submerged 1039 villages in 14 districts in Assam and more than 50 villages in Arunachal Pradesh.
Measures taken

Relief and rescue operations under way
On Sunday, the Army sent 4 teams in the Khungring area, rescuing 30 people.
Over 100 families have been shifted to safer places in Diyun circle in Arunachal and the ferry services between Dhala to Sadiya, and Neematighat to Majuli were suspended.
81 relief camps were set-up to shelter 21,931 people.
Arunachal Chief Minister directed legislators from Tezu, Namsai and Jairampur to monitor relief-measures.
Weather conditions in adjoining areas

Delhi recorded a minimum temperature of 28.4 degrees and a maximum of 34.8 degrees. Kolkata received a rainfall of 3.9 mm during the last 24 hours, with a maximum temperature of 30.8 degrees and a minimum temperature of 25.4 degrees. North Bengal recorded heavy rainfall.
Love India news?


Stay updated with the latest happenings.
26 Jul 2016

12,00,000 affected by Assam flood, major portion of Kaziranga inundated
The number of those affected by the Assam floods rose to 12,47,752 people across 2106 villages.
Over 99,41,641 hectares of crop land was also inundated in 18 districts in the state.
So far, 220 relief camps were organized.
In addition, major portions of the Kaziranga, Pobitora and Dibru-Saikhowa National Parks, which house several endangered animals have been inundated.
30 Jul 2016

Railways to provide free wagons to Assam for relief dispensation
Rail Minister Suresh Prabhu stated that his ministry would provide free wagons to the Assam Government to help distribute relief materials and aid.
The ministry also agreed to allow the Assam Government to use abandoned railway lines to create a shelter for those displaced by the floods.
Assam Chief Minister Sarbananda Sonowal asked all his state ministries to avail Suresh Prabhu's offers.