Non-local Muslims can't offer Friday prayers at Taj Mahal: SC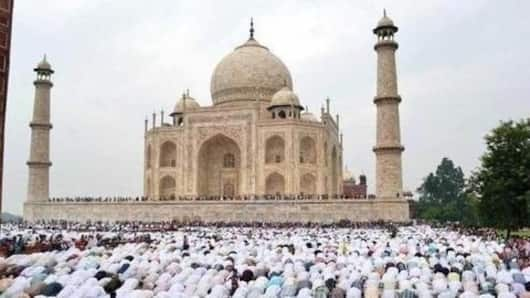 Taking another step towards preservation of the Taj Mahal, the SC has upheld a January notification that barred non-locals from offering Friday prayers at the mosque in the complex.
"Why should they go to the Taj for such prayers?" the bench asked, adding, "There are other mosques too. They can offer their prayers there."
Agra had seen many protests after the January order.
In context
SC upholds order restricting prayers at Taj Mahal
Order
Why was the order imposed?
On January 24, the Agra's Additional District Magistrate (ADM) ordered that everyone visiting the Taj on Fridays must carry IDs showing address.
The move was attributed to rising cases of tourists entering the Taj on Fridays, when it is closed for tourists.
Incidentally, the Archaeological Society of India (ASI) had passed similar orders in 2013, which were never implemented.
Protest
What did Muslims have to say about it?
Protests broke out after the order. In March, local Muslims took out a protest march and submitted a memorandum to officials of the ASI.
Syed Ibrahim Hussain Zaidi, president of the Taj Mahal Masjid Management Committee, filed a petition claiming the order had restrained Muslim tourists from around the world.
The order was illegal and arbitrary, he said.
Love India news?
Stay updated with the latest happenings.
Notify Me
Steps
Administration has taken steps to control crowds at the Taj
Dismissing the petition, Justices AK Sikri and Ashok Bhushan noted that the Taj was one of the Seven Wonders and needed to be preserved.
The administration has enforced more steps recently to protect the monument. In January, ASI proposed limiting the number of daily Indian visitors at 40,000.
In April, prices of tickets was raised and caps imposed on validity duration of tickets.
Dangers
Polluted water, polluted air, polluted land
The Taj has borne the brunt of several factors: vehicles and factories in the vicinity have increased alarmingly, as has the number of tourists.
Illegal mining in the Aravallis, dry sand from the Yamuna-bed and dust-laden winds from Rajasthan have raised pollution in Agra.
The Yamuna is under intense pressure from a burgeoning population.
Wood-burning crematoriums in and around the Taj don't help matters.
Instead of intervening, authorities have contributed to the crisis
Add to these the bureaucratic inefficiency. According to a study, Delhi burns 2-3% of the total municipal solid waste generated every day, while Agra burns 24%. Much is burnt in the open, leading to toxic smog. Sustainable development is key, the SC has observed before.