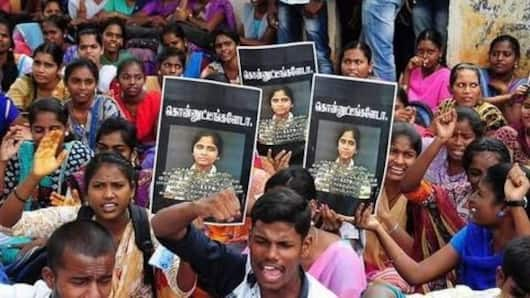 NEET: Tamil students to get 196 extra-marks, fresh result-list soon
The Madras HC has come down heavily on the CBSE, ordering it to award 196 additional marks who took the NEET in Tamil.
The HC also ordered it to release a new result list in two weeks.
CPI(M) leader TK Rangarajan had filed a PIL alleging 49 'erroneous' questions in the Tamil question paper, submitting they had been wrongly translated and thus confused students.
About the National Eligibility-cum-Entrance Test
NEET, conducted by the CBSE, decides admissions into graduate/postgraduate medical courses like MBBS, BDS, MD or MS in colleges run under the Medical/Dental Council of India.
This is the third time undergraduate medical college admissions are being decided through NEET.
Earlier, there was the All India Pre-Medical Test (AIPMT) and individual MBBS exams conducted by states and colleges.
TN has never supported the NEET
TN has protested NEET since the beginning, arguing it will leave out social justice while deciding medical admissions.
Moreover, TN has 3,534 medical seats, the third-highest number among states (following Karnataka and Maharashtra), and NEET implies seats would go to many non-TN students.
The government claims it has established 1,000 new seats in six-years at its cost, but its own students aren't being benefitted.
Love India news?
Stay updated with the latest happenings.
Yes, notify Me
This time, at least two candidates committed suicide after failure
This time, there were additional reasons for protest. Candidates claimed keywords in 49 questions were translated wrongly.
Citing examples, Shaji Chellam, the counsel for the petitioner, said, "We found both the questions as well their answers wrong."
In one instance, "Cheetah had been translated as Seetha in Tamil."
After results were declared, at least two candidates killed themselves for failing to qualify.
CBSE is accepting even wrong answers quoting 'majority decision': HC
The HC has now lashed out at the CBSE, asking why it had declared results when the hearing was in progress.
It has asked the board if "any exercise was undertaken to ascertain English words in the syllabi (which) were incapable of being reproduced in Tamil."
It also criticized its approach, saying, "CBSE is accepting even wrong answers under the pretext of 'majority decision'."
HC order will benefit 24,000 students, likely to affect rankings
This decision will impact around 24,000 students who took the exam in Tamil, as well as candidates across India, as nearly 200 extra marks could drastically alter all India rankings. Rangarajan called it a "victory for Tamil Nadu."