Maharashtrians, you can bring food from outside to cinema halls!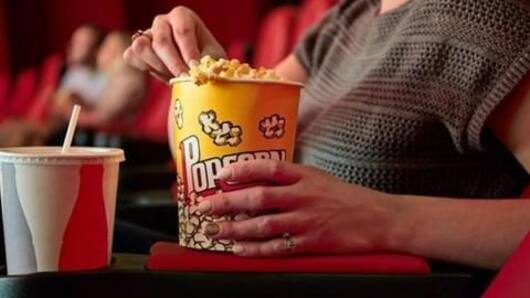 Bringing cheer to the masses, the Maharashtra government has announced that people will now be allowed to bring their own food inside cinema halls and multiplexes.
If someone stops moviegoers from doing so, they will be liable for action, said Food Supply Minister Ravindra Chavan.
What's more, multiplexes have also been ordered to sell their food products at MRP.
In context
Maharashtra announces new food rules for multiplexes
Rules
Presently, moviegoers are forced to buy excessively-priced items inside multiplexes
Rules at multiplexes across India are a double whammy for moviegoers: for one, they aren't allowed to bring food inside the hall from outside.
The only option at their disposal is buying food inside, which is often priced several times higher than they would cost outside.
The new rules announced by Chavan will come into force from August 1, drastically altering things in Maharashtra.
HC
HC asked government to list proposals for regulating prices
Last month, the Bombay HC directed the government to propose steps to regulate "exorbitant" prices of food items in cinema halls, observing they are sometimes "more expensive than the movie tickets" themselves.
Petitioner Jainendra Baxi said "public must have freedom of choice to bring their own food."
"Fundamental rights of multiplex owners under Article 19 won't be affected in any way" with this decision, the petition assured.
Love India news?
Stay updated with the latest happenings.
Notify Me
MNS
Did MNS influence this decision?
Today's order comes two weeks after MNS members assaulted a multiplex employee over high prices of food items.
A week after that, the top management of the multiplex met MNS Chief Raj Thackeray and discussed the issue.
Afterwards, MNS said multiplex owners have agreed to reduce the prices of food items sold inside "according to the price range affordable for a middle-class household."
Multiplexes
Immediately after the order, shares of cinema halls nosedived
Shares of multiplexes took a nosedive immediately after the announcement.
PVR Ltd dived nearly 10% at Rs. 1259.60, losing Rs. 137.60, while Inox Leisure was trading at Rs. 223.35, down 11.5%.
Mukta Arts fell 2.41% to Rs. 42.50.
"25-30% of revenue comes from food and beverages. Its contribution to profitability is probably the most preeminent part of revenue," said Rahul Puri, MD, Mukta Arts.
Impact
Reality check: What does this actually mean for moviegoers?
While the order might have brought cheer to moviegoers, one shouldn't expect a sharp impact.
Like usual business practice, multiplexes are likely to increase prices of tickets to offset the losses caused.
The Maharashtra government also announced a massive increase in license fee last week, from the existing Rs. 30-200 up to Rs. 15,000.
So be prepared for a simultaneous hike in ticket prices. Most asked questions
Can this verdict of Bombay High Court be followed in other states too?
Can this verdict of Bombay High Court be followed in other states too?
Asked on 13-07-2018 by Prateek Kumar
Answered by NewsBytes
No, this verdict is only for Maharashtra right now. The decision of Bombay High Court on bringing food from outside to movie halls cannot be followed in other states.