Give your kids organic crayons: Let them draw and eat!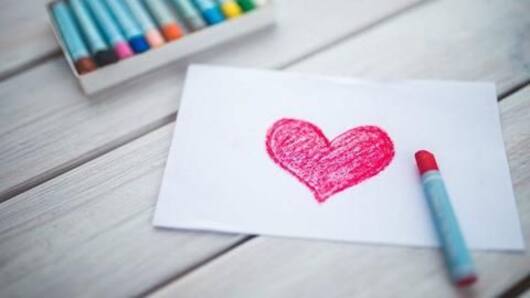 All of us remember our art classes in school where we used crayons and also ate them, don't we?
But do you know these are made of paraffin wax, coloring substances and other ingredients like polyethylene, all of which are harmful for children?
Taking this into account, several companies have started creating non-toxic and edible crayons made of nature-based ingredients.
Here are the details.
In context
Give your little ones safe, edible, organic crayons
Company-I
Based in Uttarakhand, Avani EarthCraft only uses plant-based pigments
One such company is Avani EarthCraft based in the picturesque and pregnant-with-nature Kumaon, Uttarakhand.
Started by Rashmi Bharti and Rajnish Jain as an NGO focusing on women empowerment and skill development, Avani soon started manufacturing textiles, dyes, toys, art supplies like crayons using plant-based pigments.
There are 6-crayons per box in shades of plum-red, vibrant-orange, warm-yellow, murky-green, indigo-blue, and grey-black, costing Rs. 170.
Quote
'I wanted to develop something that wasn't harmful for children'
Talking about her Kumaon-based cooperative that was established in 2012, Bharti said her daughter inspired her to create organic crayons.
"Most art supplies are made with synthetic ingredients and I wanted to develop something that wasn't harmful for children," she said, adding by September, six more shades will be added.
She uses plant-based dyes of walnut hulls, pomegranate rind, shellac, madder, onion skin, etc.
Love India news?
Stay updated with the latest happenings.
Notify Me
They have been growing indigo for the past four years
"We have established a model wherein local farmers cultivate wastelands to grow our raw materials. We are growing indigo for the past four years and have initiated the cultivation of madder recently," explains Bharti. The raw materials are sun-dried and then the colors are extracted.
Company-II
Mix soya-wax, palm-wax, soya-butter, food-grade color to make crayons!
Another organization giving company to Avani is Ahmedabad-based Azafran Organics.
They use soya wax, palm wax, soya butter and food grade colors in Veggie Crayons.
"Waxes and soya butter are melted and mixed with natural color pigments and poured into moulds. After cooling, the mixture solidifies," informs company's director, Aditi Vyas.
Azafran's crayon box has eight colors and is priced at Rs. 350.
How it's sold
Crayons are supplied to play-schools in Goa, Maharashtra
After the crayons are made, Mumbai-based social enterprise Sew Saw Handmade procures them and supplies them to play-schools in Goa and Maharashtra.
However, India still remains a price-sensitive market for natural colors, says Shipra Baranwal of Sew Saw Handmade, although emphasis on organic products is increasing.
Bharti seconds her saying, "The process of making crayons isn't as difficult as convincing parents to buy them."
Vyas' crayons are square-shaped, and for a reason!
This, however, hasn't deterred Vyas from giving an extra thought behind manufacturing her crayons. Hers are square-shaped since it "improves hand-eye coordination and helps children enhance motor skills," she said. "Blocks will not roll off the table and they don't need to be sharpened."