Bhopal: 12-hours-later, woman, held hostage by stalker, rescued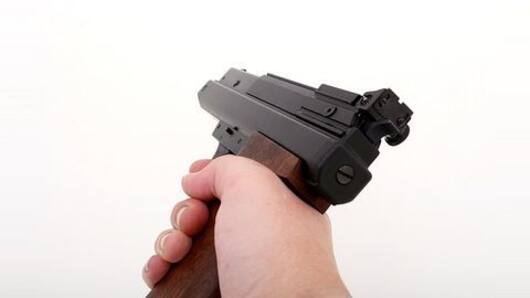 A man identified as Rohit Singh and a woman, he claimed to be in love with, were taken out of a building in Bhopal's Misrod area on Friday, putting an end to the almost 12-hour-long drama.
Singh entered the woman's residence and took her hostage on gunpoint, after which Madhya Pradesh police had to intervene.
Apparently, he wanted to marry the woman.
In context
Bhopal: Stalker takes girl hostage, drama lasts 12-hours
What happened
Woman opened door for Singh, he held her hostage
At around 6 AM on Friday, the woman reportedly opened the door for 30-year-old Singh, who bolted the house from inside.
Singh insisted he and the woman, a model, knew each other from Mumbai and wanted to marry. But since her parents didn't agree to it, he had to take the drastic step.
The police were informed about it by the neighbors.
The drama
Singh claimed he would kill himself, police try other tactics
With a country-made gun at hand, Singh claimed he would kill himself if his demands weren't met.
The police communicated with Singh through video chat. From the window of the fifth-floor residence, Singh also demanded food, water, and stamp paper.
On their part, the police tried reasoning with him and told they couldn't stop two consenting adults from marrying each other.
Love India news?
Stay updated with the latest happenings.
Notify Me
Series of events
Video released by Singh showed blood stains on floor
The case took a dreadful turn when Singh released a video of the woman on the bed and blood stains on the floor. He claimed the police were party to the woman's parents, had 'surrounded them', and stabbed 'them with knives'.
Not only this, the woman was made to sign on stamp-paper that she knew Singh for the last two years and wanted to marry him.
Harassment
Woman may have signed affidavit fearing for her life
The woman possibly signed the affidavit fearing for her life. Upon rescue, she told police she did whatever Singh asked, as she was terrorized.
After hours of convincing by two policemen and a sub-divisional magistrate, Rohit Singh finally allowed officials inside the apartment. The two were rescued at around 7 PM and sent for medical treatment.
The woman's condition is stable, reports said.
Police have charged Singh for attempt to murder
"We have booked him under Section 307 (attempted murder) for attacking the girl and also attacking a policeman when he had tried to rescue the girl. Rohit has also been charged for holding the girl captive (342, 506 of IPC)," DIG Bhopal Dharmendra Choudhary said.
Details
He has been harassing her, neighbors claimed
Residents of the building said it's unlikely the woman wanted to marry Singh, as he was just harassing her.
During Holi this year, he created a similar ruckus after which the woman filed a police complaint. Back then, he was released on bail and police asked her to stay alert.
Singh, however, claimed he was tortured by police on false allegations.