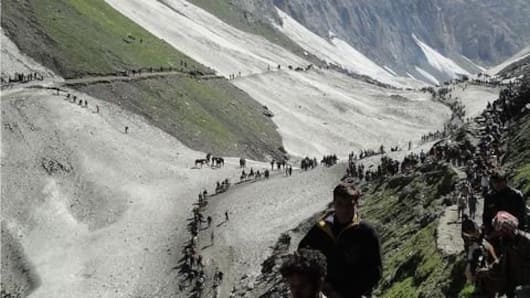 Amarnath-Yatra: Fresh batch of over 3,000 pilgrims leaves from Jammu
A fresh batch of over 3,000 pilgrims today left Jammu for the holy cave shrine of Amarnath in south Kashmir Himalayas.
The fresh batch of 3,048 pilgrims, including 623 women and 144 sadhus, left Jammu in 112 vehicles for the twin base camps (Pahalgam and Baltal) in the Valley under tight security in the wee hours, a police official said.
Over 1.65 lakh pilgrims have visited the shrine
The 60-day yatra commenced from the twin routes of Baltal in Ganderbal and Pahalgam in Anantnag districts of Jammu and Kashmir on June 28 and until yesterday over 1.65 lakh pilgrims from across the country have visited the cave shrine.
Pilgrims will reach the base camp later today
The official said 1,973 pilgrims, including 310 women and 144 sadhus, were heading for the Pahalgam-Nunwan base camp in Anantnag along the 36km Pahalgam track.
He said the remaining 1,075 yatris have opted the shortest 12km Baltal route.
They will be reaching the base camp later in the day.
The yatra is scheduled to conclude on August 26 coinciding with "Raksha Bandhan" festival.