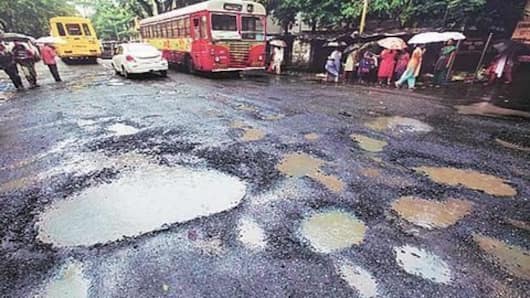 Potholes killed 10 people daily in 2017. Terrorism killed 2
Judging by fresh data released by the states, Indians should fear potholes more than they do terrorists.
While terrorism, including Naxal attacks, killed 803 people in 2017 (including civilians, security forces as well as terrorists), all states combined recorded 3,597 pothole-related deaths last year.
That's nearly 10 deaths every day - a whopping 54% rise over the 2016 figure of 2,324, TOI reports.
Most states fared worse last year than in 2016
Among states, UP registered the most such deaths at 987, carrying forward its 2016 rank (714 deaths).
Maharashtra remained the second-most fatal state, but deaths more than doubled from 329 (2016) to 726 (2017).
Haryana (522) displaced Odisha (208) from the third spot, and Gujarat (228) replaced Andhra (131) from the fourth.
In Delhi, eight people died last year, compared to none in 2016.
Not just potholes: Indian roads killed more than 400 daily
Not just potholes, roads in India are generally unsafe. According to the Supreme Court Committee on Road Safety, as many as 146,377 people died last year on the roads - more than 401 deaths daily.
Ironically, that was after a 3% decline over the 2016 figure of 150,935.
Here too, UP recorded the maximum deaths the last year at 20,142.
Love India news?
Stay updated with the latest happenings.
Yes, notify me
The government has taken several measures to correct things
The government has taken several steps to correct the alarming situation, including approving a National Road Safety Policy and constituting the National Road Safety Council.
It has focused on four 'E's- Education, Engineering, Enforcement and Emergency Care- to address concerns.
Road Safety Committees have been set up in each district to promote awareness.
Safety standards of roads, as well as vehicles, have been tightened.
Ensure your own safety by following these steps
You can take steps yourself to stay safe on roads. Drivers, always use seatbelts; don't talk on the phone while driving; and never drive under influence.
Pedestrians, do not walk on the middle of the road; follow traffic signals; and cross roads only at designated areas.
While on the road, whether driver or pedestrian, always pay attention to other vehicles.