India
Incessant rain in Mumbai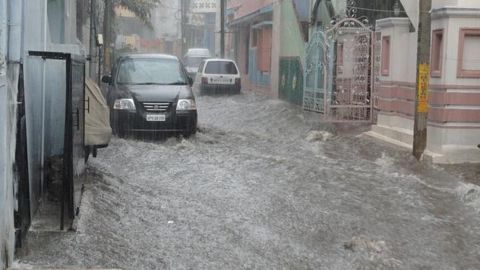 Heavy rainfall has been lashing the city of Mumbai all day today and several low-lying areas were flooded.
Other parts of Maharashtra like Alibaug, Mahabaleshwar and Ratnagiri have also been experiencing heavy rainfall.
The IMD has predicted heavy showers over the weekend across Maharashtra and especially across the North Konkan region.
In context:
Monsoon deluge across the country
April & June

Monsoon Forecast for 2016
The Indian Meteorological Department (IMD) for the first time since 1999 predicted an above-normal monsoon in 2016.
Rainfall across four months, June - September, was predicted to be 106% of the Long Period Average (LPA).
The LPA is the average seasonal rainfall in the country over the last fifty years.
IMD expects the monsoon to "gather steam during the second half of the season."
All of July

Arunachal Pradesh: No respite from the monsoons
Arunachal Pradesh has seen incessant rain over the last few weeks.
In the Namsai District, low-lying areas have been submerged as the Noa-Dehing river was flowing above danger level.
Due to disrupted surface communication, 12 villages were cut-off from Wakro in Lohit district.
According to government sources, road communication was disrupted due to multiple landslides in Upper and lower Dibang Valley districts.
Love India news?


Stay updated with the latest happenings.
July (23-30)

Rain plays havoc in Assam
Assam has seen unprecedented rains over the last few months.
18 lakh people over 3300 villages have been displaced but so far only 2.3 lakh people have sought refuge at relief camps.
Nine rivers are flowing above the danger mark and several river embankments have reported breaches.
Over 500 relief camps have been set up by the NDRF.
National Disaster Response Force (NDRF)

The NDRF is a dedicated unit of the Government to tackle natural and man-made disasters. The National Disaster Management Authority regulates the NDRF and issues guidelines. Currently, the NDRF has been pre-positioned in flood prone areas including Uttarakhand, Assam, Bihar, Gujarat and Himachal Pradesh.
July 26

Meghalaya bears the brunt of the monsoon
Meghalaya's CM, Mukul Sangma, made an aerial visit of flooded areas in the West Garo Hills district.
The swollen Bramahaputra and Jingiram rivers have submerged many areas and affected nearly 132 villages.
According to the District Magistrate, 35000 people were affected by flash floods in 71 villages.
The Jingiram river washed away the embankment at Majhipara-Solartek making nearby areas even more susceptible to flooding.
July 26

Flash floods in Tamil Nadu
Hosur in Krishnagiri, Tamil Nadu was at the receiving end of a heavy downpour; this led to flash flooding in low-lying areas such as Annai Sathya Nagar, Manjunath Nagar, Eswar Nagar and Jaynagar.
Three people were washed away in the flood.
Bicycles, motorcycles were washed away and cars were submerged. Power supply was also interrupted.
The district collector arranged for food packets for the affected people.
Love India news?


Stay updated with the latest happenings.
July 26-27

Flash floods in Uttar Pradesh
Flash floods resulted in several villages being submerged in the Siddharthnagar district.
Nearly 500 people were marooned and the National Disaster Rescue Teams were deployed overnight to rescue people.
Copious amounts of water released from Nepal led to a rise of 6 -7 feet of water levels in Banganga river.
July 28

Gurgaon gridlocked after rains
Late afternoon on Thursday, after a bout of moderate to heavy rain, city roads in Gurgaon were inundated with water.
Hero Honda Chowk, often waterlogged during the monsoon, was flooded with knee-deep water blocking the Delhi-Jaipur route on NH-8.
Thousands remained stuck for hours as rains added to the commuters' misery.
Given the precarious situation, the Haryana Government declared a two-day holiday for schools.
July 29

Bangalore comes to a grinding halt
Bangalore saw the worst flooding in a decade; three lakes overflowed and south-east Bangalore was inundated.
Flooding started early Friday morning; nearly 600 hundred cars were reportedly submerged by the end of the day.
Lakhs of commuters and school children were stranded on the clogged roads for hours.
Residents of ground floor apartments in Kodichikkanahalli and Bilekahalli were rescued by dinghies.
31 Jul 2016

Incessant rain in Mumbai
24 Sep 2016

Rains flood Mumbai suburbs; IMD says more to come
Many low-lying areas were flooded in the Mumbai suburbs after heavy rainfall.
In one hour the Peddar Road had almost 68mm rain. The rainfall recorded from 8.30am to 8.30pm by Colaba observatory was 2mm and 8 mm by Santacruz.
In Western suburbs including Khar and Andheri subways, waterlogging was reported.
The IMD-Mumbai has forecast torrential rains in the city over the next 24 hours.