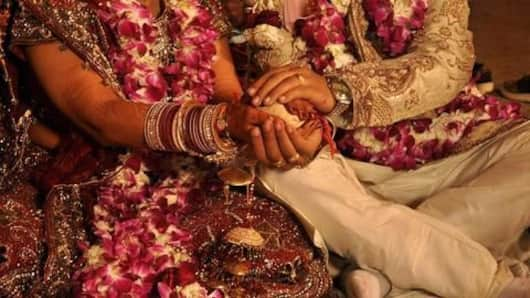 105 couples tie knot at Kashmir's biggest ever mass marriage
The Jaffri Council of Jammu and Kashmir turned dreams of 105 underprivileged couples into reality by getting them married in the valley's biggest mass marriage ceremony.
The function was held at Amar Singh Club in Srinagar on Sunday where couples from far away villages came to begin a new life.
The ceremony was attended by dozens of locals who wished the couples well.
Reality-check: Years of conflict has uprooted normal life in Kashmir
Notably, in 2009, The Kashmir University conducted a study which brought to light the hardships of people in the Valley and the effect bloodbath had.
88% of the respondents of the survey said the turmoil has led to late marriages.
Further, crippling poverty has made it difficult for parents to marry their daughters even after they cross the marriageable age.
After Kashmir floods, organization decided to help needy
Speaking about the marriages, Jafri Council's Chairman Haji Musadiq Hussain Manhas said the idea struck when they were helping families after 2014 floods.
"We came across eight such people whose marriage was just a few days away and they lost everything in the floods," Manhas said.
That's when the team decided to help the underprivileged. With every passing year, the ceremony became bigger.
Love India news?
Stay updated with the latest happenings.
Yes, notify Me
At wedding, brides were given gifts also
Credits:
In 2015, the organization married 38 couples. The following year 70 couples were wed and 75 in 2017. This year, the number reached a record 105.
Not only were the couples married, Jafri Council also gave them gifts like kitchen items and beddings. "We present everything except gold and copperwares," Manhas said.
The couples were asked to either solemnize the Nikah or produce Nikahnamas.
A bride thanks organizers for helping her
"There are girls who have crossed the marriageable age because they are poor and cannot afford a dowry. I want to compliment the organizers for helping the girls like me to marry," an emotional bride at the ceremony was quoted by DNA.