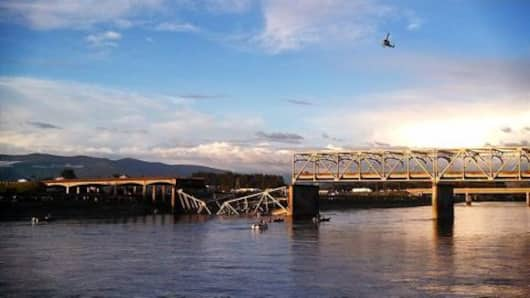 British-era bridge in Maharashtra collapses; 22 feared missing
A bridge constructed across the river Savitri during the British-rule; situated on Mumbai-Goa highway collapsed on Tuesday reportedly due to flooding of the river.
As the late-night incident went unreported, two buses heading towards Mumbai and a dozen other vehicles, unwarned, fell directly into the swollen river.
About 22 people are missing while no vehicles or survivors have been traced so far.
Rescue operations underway, says CM Fadnavis
Credits:
Maharashtra Chief Minister Devendra Fadnavis tweeted early on Wednesday that he spoke to Raigad administrative officials and rescue operations were underway.
In a series of tweets, he said the older of the two bridges on Savitri River collapsed primarily due to high-pressure caused by floods.
He added the stability and strength of the new bridge were being ascertained after which traffic would be resumed.
Traffic diverted to a parallel bridge on the river
River Savitri has been experiencing floods and flowing at dangerous levels lately due to incessant monsoon rains that lashed the area.
The British-era bridge that collapsed at around 11:30 pm was 5 kms away from Mahad town in Raigad district of Maharashtra and 170 kms away from Mumbai.
After the mishap, the highway traffic was reportedly diverted to a parallel new bridge nearby.
Love India news?
Stay updated with the latest happenings.
Yes, notify Me
PM Modi offers help
Maharashtra CM Devendra Fadnavis' office tweeted: "Hon PM (Narendra Modi) spoke to Maharashtra CM & took all details of Mahad incidence. PM offered all help in rescue and relief operations. NDRF teams are already activated."
Three NDRF teams sent to the spot
Credits:
Raigad district administration officials along with police had rushed to the place to restore the busy highway traffic that came to a standstill following the collapse.
Three National Disaster Response Force (NDRF) teams comprising 80 personnel, including some divers, are deployed for carrying out rescue operations, which have been slowed down by heavy rains.
A Coast Guard helicopter is currently searching for possible survivors.
No assessment of casualties made
Sheetal Ugale, the Raigad district collector who rushed to the spot along with Raigad Superintendent of Police Suvez Haque, said only one-way traffic on the new parallel bridge was resumed.
Deputy Superintendent of Police, Patanjali Sonawane, said about 80% of the British-era bridge has collapsed.
No assessment of casualties has been made so far as there was no confirmation of any casualties that occurred.
Mahad search operations continue on 5th day
Officials continued search operations in the Savitri River after 38 people went missing when their vehicles fell into the river.
So far, 25 bodies have been found of which 23 were identified.
10 of the bodies were from the Rajapur-Mumbai bus and 7 were from the Jaigad-Mumbai bus.
Six of the bodies were from private cars that got washed way.
Mahad rescue operations continue on day 6
Rescue operations on the Savitri river, to locate the people who went missing in the bridge collapse has continued for the 6th day.
So far, authorities estimated that 41 people are missing, of which 26 bodies have been recovered so far.
The identification of the bodies is also ongoing, as relatives of the deceased have gathered in Mahad for news about their loved ones.