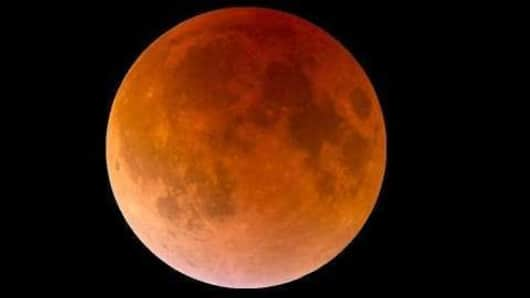 Don't miss the century's longest lunar eclipse on July 27
With Friday approaching, the countdown has already begun for what will be the longest total lunar eclipse of the 21st century.
The eclipse, which will occur on July 27, will last a lengthy 1 hour and 43 minutes.
For Indians, the good news is that the phenomenon will be visible from just about anywhere in the country.
Here's all about it.
Indians are in luck
"India is at the center stage of the lunar eclipse. It is visible all over India in its entirety," said renowned photographer Ajay Talwar, at the Amateur Astronomers Association Delhi.
Stargazers will be able to witness a Blood Moon
The eclipse on July 27 will see the moon come into perfect alignment with the Earth and the Sun, with the moon in the middle of the two - a situation that will give stargazers the opportunity to gaze at a deep red Blood Moon.
While there's a chance that cloudy skies might spoil the show, the length of the eclipse makes that unlikely.
Love India news?
Stay updated with the latest happenings.
Yes, notify Me
Detailed timings of the partial, and total lunar eclipse
According to Debiprosad Duari, Director, Research & Academic, MP Birla Planetarium, Kolkata, the 1 hour 43 minute long total lunar eclipse will be preceded and followed by partial lunar eclipses lasting over an hour each.
The first partial eclipse will start around 11:54pm IST on the night of July 27, and the total lunar eclipse will start around 1am IST on July 28.
July is proving to be a rewarding month for stargazers
Overall, July seems to have been a rewarding month for stargazers.
The month already saw a partial solar eclipse on July 13, and Mars is set to come the closest it has to Earth in 15 years on July 31.
In addition, the July 27 lunar eclipse will come very close to the longest possible lunar eclipse duration of 1 hour and 47 minutes.
What is the lunar eclipse?
Asked 2018-07-26 09:55:03 by ravi KUMAR
Answered by NewsBytes
A lunar eclipse occurs when the shadow of earth is cast on the moon because earth crosses between moon and the sun. It will only happen when there is a full moon and the moon passes under earth's shadow. When the sun, earth and the moon are completely aligned, it results in darkening or reddening of the moon.
Is it safe to see it with the naked eye?
Asked 2018-07-26 09:15:49 by Deepak Vishwakarma
Answered by NewsBytes
Yes, it is absolutely safe to see Lunar Eclipse with the naked eye.