After flak over sexism, 'Young Achievers Matrimony' founder apologizes
India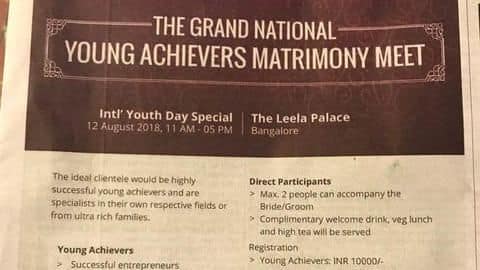 A matrimonial advertisement published in The Hindu on Wednesday has irked people on social media platforms.
According to the 'Young Achievers Matrimony' advertisement, a 'beautiful girl' was a young achiever much like an IIT/IIM graduate or an entrepreneur.
The ad upon release invited despise as it reeked of sexism and elitism.
Now, the founder Sreeram N of YAM has accepted his mistake and apologized.
The ad
Let's first tell you what's wrong with the advertisement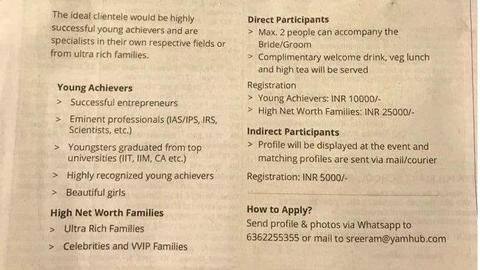 Everything is wrong about it. For one, the advertisement lists 'Beautiful Girls' under 'Young Achievers' category. The 'beautiful girls' were put along with successful entrepreneurs, eminent professionals and IIT/IIM graduates.
Second, this meeting was meant only for 'ultra-rich' or 'celebrity' families.
Further, it said the profiles would be shown in the event and later emails will be sent. Much like a fashion sale, right?
Reactions
The regressive advertisement gets slammed (and rightly so) by netizens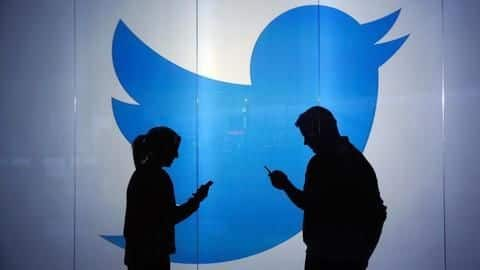 The advertisement found a way on social media and was slammed.
@borges wrote: There's no way one thing can be sexist, casteist, elitist, and offensive to literally everyone all at the same time. Young Achievers Matrimony: Hold my beer.
@saffrintrail tweeted: It's 2018 and there's a young achievers matrimony meet that promises beautiful girls. This whole thing is regressive on so many counts.
Twitter Post
Naturally, people had different kinds of thoughts on this
My guess is participants bring dais, wear a placard, write a speech and trot around their own award after doing setting with "beautiful girl" khopche mein outside The Leela. Then we've got a real Young Achievers Matrimony Meet. Someone call Mr. and Mrs. Sreeram to clarify stat. https://t.co/cqdHho4a4a

— Parul Soni (@irreverent_bai) July 25, 2018
The defense
We made a mistake, says founder of YAM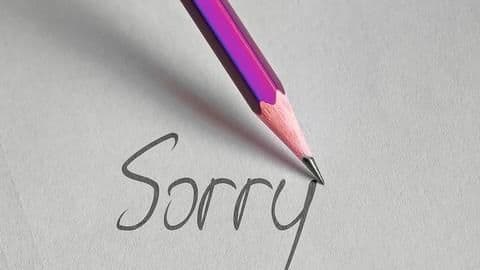 Sreeram N, who runs the company along with his wife, told The Newsminute that the 'beautiful girls' part was a mistake.
He said now that the advertisement is being slammed, no one will come for the event.
The event was scheduled to happen at The Leela, Bangalore, and the registration fee was Rs. 10,000 for 'young achievers' and Rs. 25,000 for 'rich families'.
Quote
We didn't want to discriminate, says Sreeram N
"We did not want to be discriminatory. It is not as though girls who are not beautiful (?) are not allowed. The YAM matrimony meet was for young achievers and actually that is the only criteria," Sreeram added.
Details
But why such a high cost for event? Sreeram explains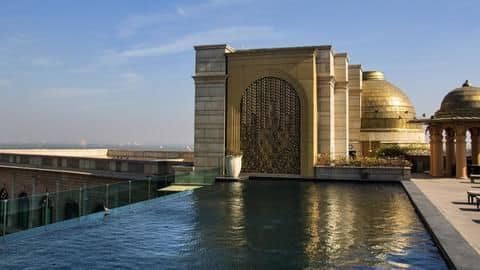 Speaking about the categories of IIT/IIM, Sreeram said his clients have asked him in the past for these specifics.
"If I put only 'entrepreneur' in the ad, how many people will come? That is why I put those criteria like IAS, IIT, IIM," he said.
Further, about the high fees for the event, Sreeram said The Leela is an expensive venue.
Last thoughts
Unfortunately, this advertisement isn't the only sexist thing around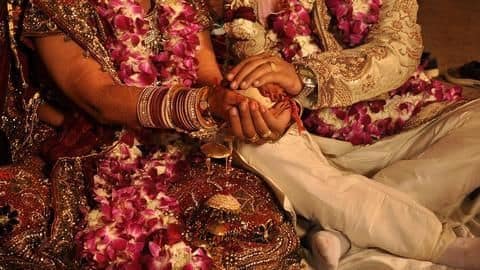 Further, Sreeram revealed he plans to publish an apology in 'The Hindu' and has canceled the next advertisement that was scheduled to release.
While this advertisement is obviously regressive on many levels, it isn't the only one.
The matrimonial section of newspapers proves what the society really wants. No, not social justice, but a fair, well-educated girl ready to be a homemaker. Priorities much?