India
Lockheed Martin proposes to shift F-16 production line to India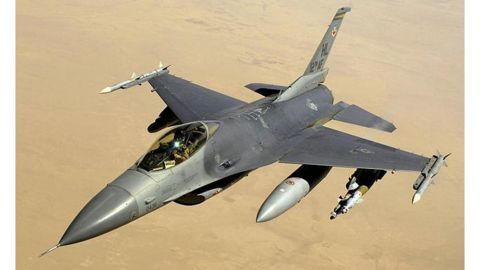 On Thursday, American defence major Lockheed Martin offered to move its lone F-16 fighter aircraft production-line, Block 70, to India as part of the 'Make in India' program.
Development Head Randall Howard said F-16 would be made "for India, from India and exported to the world".
However, the condition laid down by Lockheed is that the IAF has to induct F-16s into its fleet.
In context:
Lockheed Martin and 'Make in India'
Lockheed Martin's F-16 fighter aircrafts

The F-16 fighting falcon is a Mach II interceptor and it incorporates the latest quadrupole fly-by-wire technology. It can carry missiles and precision bombs. It is the largest selling fighter plane in the world and over 4500 are in service in 26 nations.
06 Aug 2016

Lockheed Martin proposes to shift F-16 production line to India
Love India news?


Stay updated with the latest happenings.
Present Scenario

India's stand
The IAF is looking to obtain new aircrafts to increase its depleting strength. Manohar Parrikar said that India will choose atleast one more aircraft, besides the Tejas, through 'Make in India' route.
The F-16's competitors are American Boeing(F/A-18E), France's Dassault Aviation(Rafale), Saab's Swedish plane Gripen and Eurofighter.
All of these companies have also offered to set up a production facility in New Delhi.
Proposal

Lockheed Martin's expectation
Lockheed is expecting a $15 billion export potential for the 'Made in India' F-16 fighter planes.
In order to set up the planned industrial base in India, they are looking at a potential order of around 200 aircraft, 100 for the IAF and 100 for export.
A joint venture model is being considered where the prime ownership will reside within the Indian company.
Coming up next

Lockheed Martin's future plans
The production of F-16s will continue at Fort Worth in Texas through late 2017.
After F-16 production moves to India, they will switch to work on the new model, the F-35 Joint Strike Fighter.
The plant is currently speeding up production of F-35s with the expectation of producing 17 F-35s in one month from Fort Worth by the end of the decade.
Other F-16 manufacturing locations

During the 1970s a joint U.S./European program produced F-16s for four NATO countries from three assembly lines - Fokker in the Netherlands, Sabca in Belgium, Samsung in Korea, Turkish Aircraft Industries in Turkey and the Fort Worth production line in US.