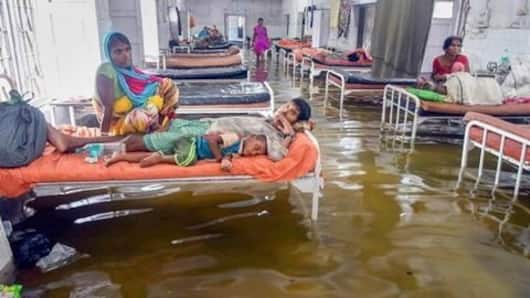 Patna: Nalanda Hospital flooded with rainwater, fish swim inside ICU
The patients undergoing treatment at Patna's Nalanda Medical College Hospital were given company by fishes, after ICU and general wards got flooded by rainwater.
The visuals, which highlight the state's failure in more ways than one, showed patients lying on beds with the floor full of rainwater.
What's more shocking is that this is a persistent problem every year, and yet no action was taken.
Patient's relative caught fish to show it to doctor
The hospital beds were in two-feet deep water, with fishes swimming around. Hospital essentials like syringes and bandages also floated.
The nurses had to brave waters to cater to the patients, unsurprisingly some families decided against getting their kins treated there.
A relative of a patient said he caught a fish and showed it to a doctor, but the latter pleaded helplessness.
Not only patients, even doctors are braving waters
Dr Ravi Ranjan Kumar Raman, president of the Junior Doctors Association, said even doctors were facing problems both at the hospital and in their hostels.
"The mess of our hostel No. 2 has been closed due to waterlogging. We are somehow arranging food from outside. The old hostel's roof also collapsed last night at around 2 PM," he revealed.
Love India news?
Stay updated with the latest happenings.
Yes, notify Me
Believe it or not: This is a hospital
Retweeted ANI (@ANI):#WATCH: Fish seen in the water logged inside the Intensive Care Unit (ICU) of Nalanda Medical College Hospital (NMCH) in Patna following heavy rainfall in the city. #Bihar pic.twitter.com/gmVnLkolsd

— prashanth (@prasha_bp) July 29, 2018
It's a recurring problem, can't do much, officials say
NMCH president, Anand Prasad Singh said this happened every year as the hospital was located in the low-lying area.
They were trying to pump out the water, he said, and the process would easily take two-three days. He said they sprinkled bleaching powder in water.
Singh said some patients were shifted to another care unit after attendants complained of a foul smell from water.
Have no option, can shift patients to another hospital: Singh
"We have given the patients an option to move to Patna Medical College Hospital if they want and we will provide them with an ambulance. We have no other options," Singh said and added they were in talks with Patna Municipal Corporation.
To reduce water levels, here's what authorities are doing
Sushil Kumar Mishra, an official at the PMC, said the public health engineering department provided two motors to pump the water out, but one of them broke down.
The hospital has been asked to arrange an alternate motor, he added.
"The waterlogging situation has happened in the hospital due to not having drainage outside the hospital. The drains had been covered," he explained.
Meanwhile, health minister evades question, Tejashwi Yadav slams government
While the hospital remained submerged, Bihar's health minister Mangal Pandey attended a function in Shimla. When reporters asked him to comment on the situation, he evaded it.
Meanwhile, leader of the opposition, Tejashwi Yadav tweeted: ICU of NMCH is swimming in drain water, fishes seen in ICU. Mind you, you can't question Nitish Kumar as his conscience is fast asleep and snoring with BJP.
This is Nitish Kumar's model of development, tweets Tejashwi Yadav
Nitish Kumar's model of development. ICU of NMCH is swimming in drain water, fishes seen in ICU. Mind you, you cant question Nitish Kumar as his conscience is fast asleep and snoring with BJP. https://t.co/XucX31lZvb

— Tejashwi Yadav (@yadavtejashwi) July 29, 2018