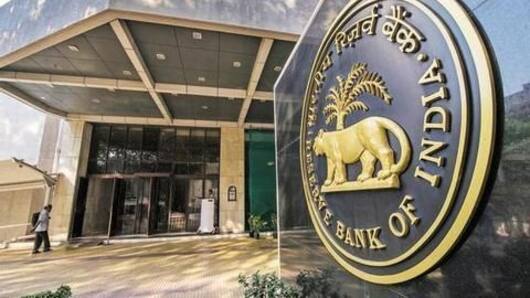 Loans to get costlier as RBI hikes repo rate again
The RBI today increased repo rates by 25 basis points to 6.5%, the second hike in two months, making housing and automobile loans costlier.
The monetary policy committee (MPC) kept its stance neutral, aiming to contain inflation at 4% within a 2% band, thus making future rate hikes possible.
Simultaneously, it raised average inflation projection for 2018 second half from 4.7% in June to 4.8%.
How will the hiked repo rate affect you?
Repo rate is the rate at which RBI lends money to banks. The central bank uses it as a tool to control the amount of money supply in the economy and, thereby, inflation.
With an increase in the repo rate, EMIs on borrowings, be it personal loan, car loan or home loan, will increase as the banks will pass on the burden to customers.
Why was it hiked?
The MPC cited the recent hike in minimum support price (MSP) as the main factor driving the increase.
The MSP hike "will have a direct impact on food inflation and second round effects on headline inflation," it said.
The decision also comes on the back of elevated crude oil prices.
According to Kotak Institutional Equities, a falling rupee added to the decision.
Love India news?
Stay updated with the latest happenings.
Yes, notify Me
GDP growth 7.4%, reverse repo rate 6.25%
Credits:
The RBI adjusted the reverse repo rate - the rate at which it borrows from banks - to 6.25%.
The GDP growth for FY19 has been retained at 7.4%
RBI has predicted strong economic activity due to healthy monsoons, strong rural demand pushed by the MSP hike, and rising investment.
Inflation projections for the third quarter onwards have remained more or less unchanged.
Causes for concern
Going forward, uncertainty around domestic inflation and recent global developments will be concerns, the MPC said. "Rising trade protectionism poses a grave risk to near-term and long-term global growth prospects by adversely impacting investment, disrupting global supply chains and hampering productivity," it added.
RBI policy hits markets, Sensex ends lower
Unlike the last repo rate hike in June, the first in four years, the MPC's decision this time wasn't unanimous: one of six members, Ravindra Dholakia, voted against the hike.
Benchmark indices traded lower after the announcement.
Weak regional data and fears of an escalating US-China tariff war pulled markets lower.
The blow was cushioned by strong earnings out of the US.