India
Drop-outs across IIT & IIMs fall sharply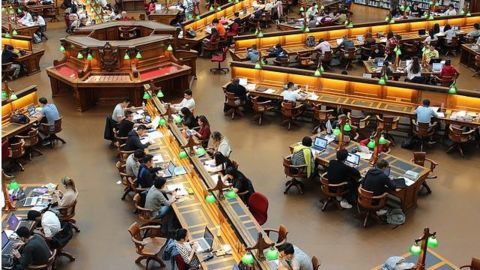 Academic year 2015-2016 saw 256 and 198 students drop out from IIT Delhi and IIT Kharagpur respectively; the remaining students dropped out from the 21 other IITs.
IIMs have seen dropouts in single digits over the past year.
Minister of State, HRD Mahendra Nath Pandey, said in Lok Sabha today that students dropping out had reduced significantly due to 'proactive measures taken by institutions'.
In context:
IIT and IIM successfully mitigate drop-outs
Details

4500 dropouts across IIT and NITs in last 3 years
Academic year from 2012-2013 to 2014-2015 saw nearly 2000 students drop out from the Indian Institute of Technology (IIT) and an equal number from the National Institute of Technology.
Reasons included medical concerns, leaving mid-way upon finding jobs, inability to cope or personal reasons.
The concerned authorities noted the precarious situation and put in place mechanisms to help students deal with academic stress.
Details

Drop-outs often belong to reserved category
In 2008, IIT Delhi terminated 25 students, most of whom belonged to the reserved category (SCs, STs and OBCs).
Last year IIT Roorkee expelled 73 students with poor CGPA scores; 90% of those expelled belonged to the reserved category.
According to a survey, over 50% of reserved category students felt discriminated against and over 60% felt more pressured academically than general category students.
Love India news?


Stay updated with the latest happenings.
Key reasons

Why such high drop-outs?
According to RTIs, a very high percentage of drop-outs or those who failed were from the reserved category.
Key challenges are communication in English, poor schooling from government schools and superficial teaching at coaching classes.
IITs are mandated to fill seats in the reserved category; students with scores as low as 12% are admitted suggesting a stark contrast in schooling/competency vis-a-vis general category students.
Details

Addressing the problem
In 2009, the Supreme Court held reserved category students need special care even in places of higher learning; institutes duty-bound to provide coaching facilities to help them compete with the general category.
Former HRD Minister, Smriti Irani, stated multiple initiatives were put into action to minimize drop-outs at premier schools including guidance and counselling units to identify students struggling with academic stress.
09 Aug 2016

Drop-outs across IIT & IIMs fall sharply
Reservation at IITs

There are currently 23 IITs in India and according to extant laws state-funded institutions like IITs are required to reserve 15%, 7.5% and 27% of total number of seats for SC, ST and OBC candidates.