24 banks collect Rs. 5,000cr as minimum balance non-maintenance penalties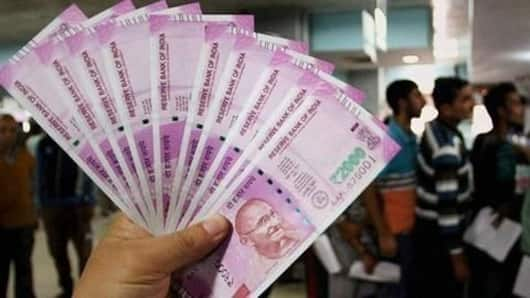 Twenty-four banks have collected a whopping Rs. 4,988cr in 2017-18 as penalties for non-maintenance of minimum average monthly balance (AMB).
Leading the list is SBI, which collected Rs. 2,433cr, nearly half of the total amount. It was followed by HDFC (Rs. 590cr), Axis (Rs. 530cr) and ICICI (Rs. 317cr).
PNB, the only other state-run bank among the top five, collected Rs. 211cr.
In context
Banks collect Rs. 5,000cr as AMB penalties
AMB
What is AMB? Why is it levied?
Banks have a pre-fixed AMB. If the balance in account drops below this amount, they're entitled to charge penalties.
These penalties are used to provide various services, banks say, including free cheque books, some free ATM transactions a month and free branch transactions.
SBI has cited increase in expenses as factors: two major expenditures are on maintaining Jan Dhan accounts and linking Aadhaar.
SBI
SBI re-implemented AMB penalties after six-year gap
SBI re-implemented AMB penalties last fiscal after six years. But the penalties were slashed by up to 75% after widespread criticism over the high rates.
Customers in Metro and Urban centers now have to pay a fine of Rs. 15 instead of Rs. 50.
In Semi-Urban and Rural Centers, fines of up to Rs. 12, instead of Rs. 40, are levied.
Love India news?
Stay updated with the latest happenings.
Notify Me
So what balance should SBI customers maintain?
Currently, the AMB for Metros/Urban, Semi-Urban and Rural centers is Rs. 3,000, Rs. 2,000 and Rs. 1,000 respectively. If these aren't maintained, penalties are levied. There's an additional GST of Rs. 10 in all cases of fines.
Excess
Excess penalties have drawn the ire of the masses
The RBI has directed that charges should be reasonable and in line with the cost of services provided by banks, but AMB penalties have often been criticized for being excessively high.
There was mass uproar after reports emerged that SBI had collected Rs. 1,771cr during April-November'17 as AMB fines.
The 2017-18 collection mentioned above, even excluding SBI, is an increase of Rs. 400cr from the 2015-16 figure.
Zero balance
Here's how you can maintain an account without AMB fines
If you wish to skip AMB fees, you could go for a basic savings bank deposit, offered by both private and public sector banks.
Here, there's no minimum balance, meaning you won't be penalized even if balance falls to zero.
You also get some basic services for free, including a few ATM transactions, ATM cards and net-banking facilities.
Check out banks' websites for details.