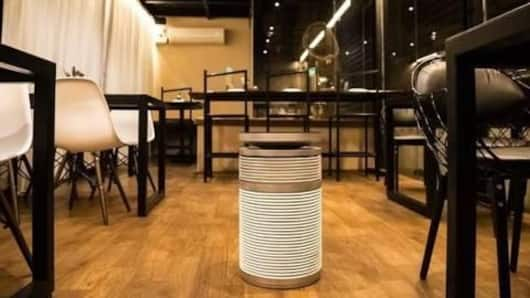 IIT-Madras gives India its first home-grown, remote-controlled 'affordable' air-purifier
To tackle indoor air pollution, AirOK Technologies, a startup incubated by IIT Madras, has developed 'Vistar', a 'smart' air-purifier, which can be remotely monitored through a mobile phone.
Vistar will have futuristic features like Wi-Fi and touch interface.
It would cost Rs. 20,000 and last for a year, which is twice the longevity of the air purifiers currently available in the market, said researchers.
Cylindrical-shaped device comes in two models, depending on coverage area
The device having metallic silver body and cylindrical shape comes in two models: Vistar 450 and Vistar 550, depending on the coverage area measured in square feet.
While the smaller model weighs 8kgs, the other one will be of 9.5kgs.
Both the air purifiers will measure 300mm in diameter and 520mm in height, said Deekshith Vara Prasad, Founder and CEO, AirOK.
Has the ability to filter particulates up to 0.3 microns
Vistar has the ability to filter particulates up to 0.3 microns, including volatile organic compounds (which contributes to ozone formation), acidic and basic pollutants (such as sulfur dioxide and nitrogen oxides), airborne bacteria and pet dander (very tiny particles of skin that are shed by animals with fur or feathers).
It would run on AirOK's patented filter technology, Efficient Granular Absorbent Particulate Arrester (EGAPA).
Love India news?
Stay updated with the latest happenings.
Yes, notify Me
Vistar can be monitored through AirOk Home app
Commenting on the monitoring part, Prasad said it can be done through the AirOk Home app.
It would also send notification and reminders to your smartphone when replacement is needed, he added.
The air purifier can be placed anywhere in a room, and it would be able to regulate its fan speed depending on the pollution level and concentration of pollutants.
SAR group to market Vistar; residential, industrial segments are targets
This machine, India's first indigenously made air purifier, was developed after a rigorous three-year R&D, by a team comprising Vijaya Savanth, Pavan Reddy, Prasad, Sravan Krishna and Bhanu Prasanna Varma.
They have talked to Delhi-based SAR group, for marketing and residential segment will be their target.
However, it was designed keeping institutional segment in mind, including hospitality, real estate, food processing and manufacturing sectors.
Aim: Making Vistar a Rs. 100cr-brand in five years
Prasad said the device has also passed the trial tests.
"The positive results of the laboratory tests conducted by Shriram Institute for Industrial Research, Bengaluru and field trials by a leading specialty hospital in Chennai stand testimony" to the device's efficiency, he said.
Encouraged by positive feedback, they are now planning "to make this a Rs. 100cr-brand in the next five years."