Muslim man, who participated in Kanwar-Yatra, stopped from offering Namaz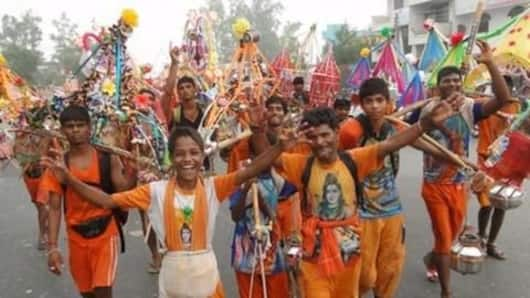 A Muslim man, who took part in Kanwar Yatra, was allegedly stopped from offering Namaz at a mosque in UP's Baghpat area.
"I had gone to Haridwar as a Kanwar and offered water at the temples. On Friday, when I went to a mosque, some people assaulted me and stopped me from offering Namaz," Babu Khan said in his complaint registered with the police.
In context
UP: Muslim man stopped from offering Namaz
Arrests
Three persons arrested for disrupting peace, police said
Khan, a resident of Racharh village of the district, alleged that after he was beaten up, his wife and children went to their relatives.
Inspector Devendra Bisht said, "Three persons have been arrested for disrupting peace, while another person is absconding."
Police along with prominent citizens of the area are making efforts to resolve the matter through talks, Bisht said.
Accused's claims
Khan was trying to enter mosque in inebriated state: Accused
The accused persons, however, alleged that Babu Khan was trying to enter the mosque in an inebriated state and hence he was stopped from entering.
Meanwhile, District President of Hindu Jagran Manch Deepak Banmauli said, "The Manch is with Babu Khan and if anyone harasses him then we won't tolerate it."
In the Hindu holy month of Shravan, Kawariyas offer prayers at Shiva temples.