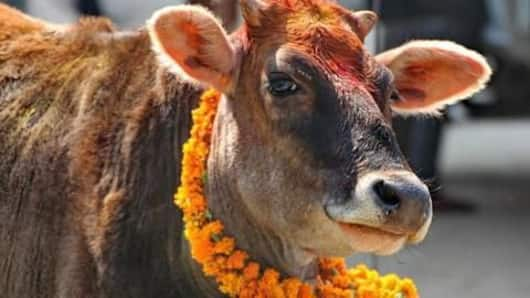 Uttarakhand: High Court is now the legal guardian of cows
On Monday, the Uttarakhand High Court made itself the legal guardian of cows in the state by evoking the 'parens patriae' doctrine, which means it takes care of those who can't take care of themselves.
The state government was given 31 directions including setting up of cow shelters in a cluster of 25 villages and taking action against those who abandon cattle.
Backstory: Farmer files PIL, court observes cattle being slaughtered
Notably, Haridwar-based farmer Alim Ali had filed a PIL alleging that slaughtered cattle was dumped into water bodies, which posed threat to villagers.
The court observed that there was an alarming rise in slaughter in Haridwar, though it is already banned in the state under Uttarakhand Protection of Cow Progeny Act.
The punishment is up to 10 years jail or Rs. 10,000 fine.
Hence, the court decided to become the legal guardian.
Love India news?
Stay updated with the latest happenings.
Yes, notify Me
Bench cites animal welfare, Hindu texts in order
DK Joshi, senior advocate explained that the court can now keep a tab on cow-related issues, and send notice to the state government, if faults are found.
Acting chief justice Rajiv Sharma and justice Manoj Kumar Tiwari cited animal welfare, national and international laws, and Hindu religious texts in the 40-page order.
The bench said animal welfare was necessary for 'moral development of humanity'.
Court specifies that animals shouldn't be agonized
"No pain or agony should be caused to animals. In Hindu mythology, every animal is associated with the god. Animals breathe like us and have emotions. They require food, water, shelter, and medical care," the court observed.
Here's what the High Court ordered the State to do
Subsequently, the state government was asked to ensure cattle wasn't slaughtered.
The court also directed the state to provide medical treatment to stray cattle, appoint infirmaries in three weeks, evacuate unauthorized occupants from cow shelters within three months, and to prohibit the sale of beef products.
Further, the court said no commercial electricity and water charges will be levied on these shelters.
Court orders setting up of special squad for cow-protection
Moreover, the court ordered setting up of a special squad which will be headed by an officer, not lesser in rank than DSP police, and a veterinary doctor to protect cows.
Notably, in 2017, the Uttarakhand HC had said the river Ganga was a living entity and had the rights of a person.
However, this order was later overturned by the Supreme Court.
Who will protect the cows in Uttarakhand?
Asked 2018-08-14 16:48:23 by Anonymous
Answered by NewsBytes
The Uttarakhand High Court has ordered to set up a special squad which will be headed by an officer, whose rank will be on the same level as of a DSP in police and also a veterinary doctor.