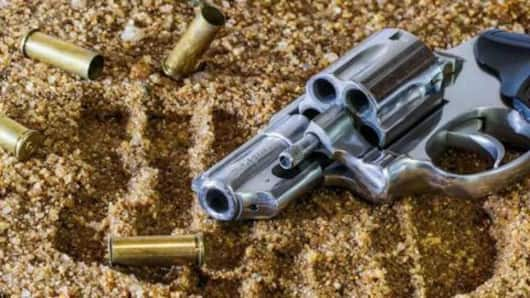 BJP leader killed, violence ensues
BJP leader and well-known trader Ashok Jaiswal was shot dead by gunmen in Bihar late Wednesday evening.
The district-level leader was immediately rushed to a private hospital, but was soon declared dead upon arrival.
Bihar, known for its crime and violence soon witnessed protests in the area, with the party members calling for a bandh against the attack.
Murder signals decreasing law and order in the state
"Murder of Jaiswal in a busy place is enough to prove that criminals do not have any fear of law in the state under the Grand Secular Alliance government," said Union Minister of State Ramkripal Yadav, stating that crimes are on the rise in Bihar.
Specifics: Jaiswal's murder
Jaiswal was shot in a busy market area in the Danapur area, facing up to four bullets from unidentified youths.
The police officials said that an FIR has been charged against five suspects, and two have been taken into custody for interrogation.
With allegations of Jaiswal's younger son eloping with Bihari criminal Dinesh Singh's niece, it is suspected that Singh is behind Jasiwal's murder.
Love India news?
Stay updated with the latest happenings.
Yes, notify Me
Jaiswal's active political involvement
"He had also contested the 2010 assembly elections form Danapur constituency as an independent," a senior BJP party member told reporters, highlighting the victim's active political involvement in the district.
Array of attacks in Bihar
Second Bihari BJP leader to be killed
Ashok Jaiswal's murder is the second attack against a BJP leader in Bihar.
The murder has resulted in BJP leaders Ramkripal Yadav, Danapur MLA Asha Devi and Digha MLA Sanjeev Chaurasia protesting for a complete shutdown of the Danapur area on Thursday.
Earlier this year, the party's vice-president for Bihar, Visheshwar Ojha, was killed in Bihar's Bhojur district.
Congress calls BJP leader's killing a "blot on democracy"
Credits:
The Congress has called the killing of BJP leader Ashok Jaiswal in Bihar, a blot on democracy in India.
The party demanded that appropriate action be taken against the perpetrators of the crime by the state government.
The Congress also voiced in concern over the deteriorating law and order conditions in the state and asked the government to take measures to curb violence.