#TravelBytes: Top 5 best water parks in Delhi-NCR
India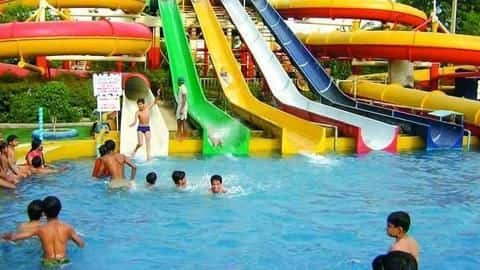 There's no denying the fact that the scorching Delhi heat is simply unbearable.
But if going out (we mean it!), and spending time with family is on the cards for you, what better a way to beat the heat than sliding on colorful slides and diving right into a pool of freezing-cold water?
Here are top 5 water parks to visit in Delhi-NCR.
WOW
Head to Worlds of Wonder for a wow experience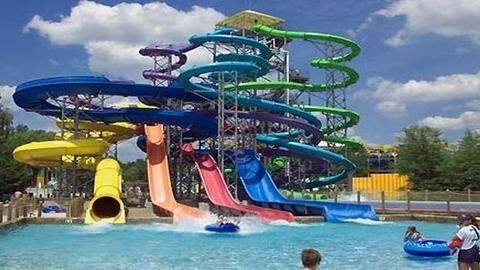 Situated adjacent to Noida's popular Great India Palace (GIP) Mall in Sector 38-A, the Worlds of Wonder (WOW) is an enormous water-cum-amusement park.
The park houses 26 amazing slides, a rain dance section, a huge man-made lake, 360-meter lazy river, and a beach-themed wave pool.
The fees for adults is Rs. 999, and for children, Rs. 699.
Timings: 11AM - 7PM.
Jurasik Park Inn
A giant T-Rex welcomes you to this amazing water park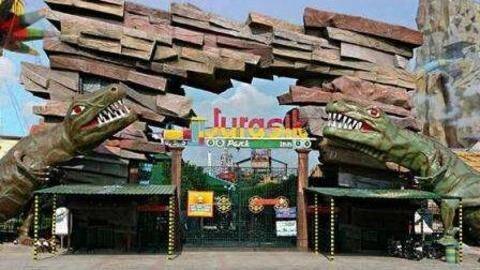 Located near Omaxe city in Sonipat, near Delhi on NH-1, the Jurasik Park Inn featuring a giant T-Rex at the entrance, is a major attraction for families.
The water park has 21 rides and 6 slides.
It also has a Wave Pool, a Kids pool, Lazy River, Rain Dance, a 70-feet-high waterfall, and a lot more to offer in the amusement-park section.
Aapno Ghar
Aapno Ghar Water and Amusement Park, Gurugram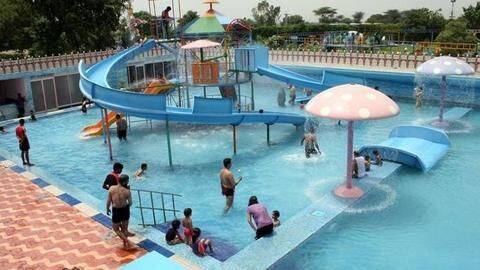 Known for beautiful in-house resort, the Aapno Ghar water and amusement park has no dearth of thrill.
It has 21 amazing slides like the Caterpillar, Baby Train, Western Train, Round About, Flying Bob, and Bhul Bhulaiya, among others.
Other activities include Turbo Twister Slide, Rain Dance Pool, Rain Shower Pillar, Water Mushrooms, Giant Tipping Bucket, and more.
The combined entry fee is Rs. 950.
Food N Fun
Food N Fun Village, Kapshera, Delhi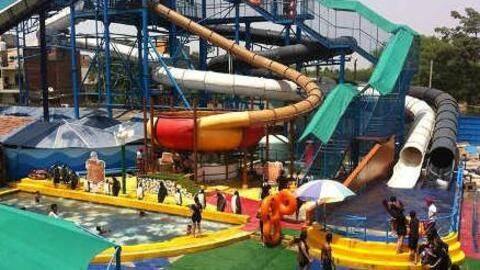 Another most visited water park in the Delhi-NCR region is the Food N Fun Village, located on Old Delhi-Gurgaon road in Kapshera.
The park will certainly give you all the feels with its many amazing slides, the snowy park, the lazy river, in addition to the many swings and rides in the amusement section as well.
Couple entry fees is Rs. 1,200.
Adventure Island
The awe-inspiring Adventure Island in Rohini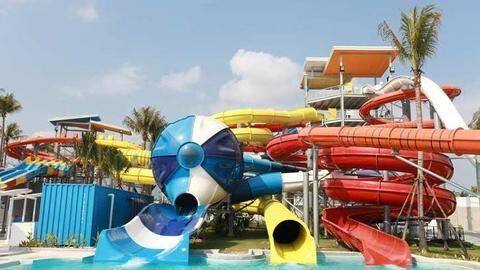 A favorite weekend-stop for residents of Rohini- Adventure Island water park attracts fun-seekers of all ages.
The key attractions there are some world-class water rides and slides, like- Splash Down, Splash Dunk, apart from Aqua Play, MAD theater, boating, and Live D.J.
Special arrangements for birthdays and other occasions are also available.
The timings of the park are 11 AM to 7 PM.