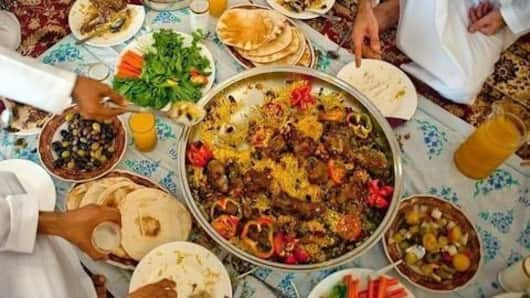 Eid Mubarak: 5 delightful dishes to prepare for the feast
The second, holier of the two biggest Muslim festivals- Eid-al-Adha (or Bakrid) is finally here.
The 'Festival of sacrifice' celebrates Prophet Ibrahim's selfless devotion for Allah, and God's subsequent compassion towards him.
Apart from prayer offerings, mosque visits, get-together with family and friends, another favorite about the much-awaited occasion is the delightful food.
Here are 5 mouth-watering dishes to prepare this Bakrid.
Because one simply can never have enough of Biryani
It's Eid, so chances are you're probably already chewing on some deliciously amazing home-cooked Mutton Biryani, but any list about Eid-special foods is incomplete without it.
The classic dish made with steam-cooked Basmati rice, and added marinated Mutton pieces, with a bagful of spices, herbs, and flavors is simply unforgettable, each time it touches your tongue.
Serve hot, with curry and curd!
The king of all Mughlai dishes
If you're a fan of Mughlai cuisine, your life (and your Eid!) is incomplete without having Nihari.
It is a specialty Mughlai stew, cooked overnight for 6-8 hours, with a punch of masalas and spices to give it its trademark taste.
It is usually serve super-hot for main course, accompanied with Naan, rotis, and rice.
Love India news?
Stay updated with the latest happenings.
Yes, notify me
The best starter to your Eid feast
For any feast, starters are the unspoken champions, as they set the right mood to begin things.
And what better for a starter than the tender, delectable plateful of Mutton Shammi kebabs.
An easy-to-prepare meat snack, all it asks for is Qeema Mutton, Chana Dal, ghee, and all the spices in the world (read kitchen).
Truly a mouth-watering Hyderabadi-favorite snack option.
The soul of the feast
No Eid is complete without finishing things off with a bowl of flavorful, aromatic, sweet-dish delight of Sheer Khurma, or Sevaiyya.
Made with vermicelli, sauteed with ghee, and then added to a bowlful of milk, the Sheer Khurma is one of the best food gifts Muslims gave to the world.
Top it with dates, nuts, and fruits to enhance the taste-quotient.
Anything prefixed 'sheer' can never be bad
A mildly-sweet tasting naan bread, roasted in a tandoor or tava, the Sheermal is an Eid favorite for Muslims around the world.
Prepared from maida-dough mixed with milk and spices of choice, the Sheermal can be taken either as a tea-time snack or for main course- served with your favorite dal or paneer sabzi.
Spread a generous amount of ghee for heavenly taste!