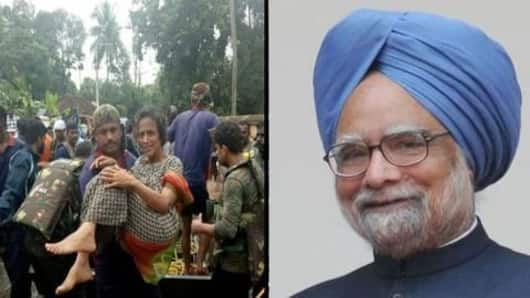 #KeralaFloods: India may refuse UAE's generous aid due to UPA-policy
The Indian government may not take UAE's help of Rs. 700 crore for relief after floods wreaked havoc in Kerala, following a policy formed by former Prime Minister Manmohan Singh.
In 2004, when India faced a tsunami, the then PM had turned down assistance from foreign governments, and current Prime Minister Narendra Modi is likely to follow the same, multiple reports said.
In tsunami aftermath, Singh said would take help if needed
In December 2004, when the tsunami killed more than 12,000 and displaced over 6 lakh, Dr Singh had said, "We feel that we can cope with the situation on our own and we will take their help if needed."
Aid was refused for Uttarakhand (2013), Kashmir floods (2014) and Kashmir earthquake (2005).
Notably, countries like Russia, the US and Japan, had offered help.
'One government accepting aid, and another refusing is diplomatically difficult'
Sources placed in government said, 2004 was India's watershed moment in this aspect. Highlighting the reason, a source told IE, government authorities felt India could handle calamities like this on its own.
"Secondly, accepting from any one government opens the floodgates for others as well, and it would be diplomatically difficult to refuse from some while accepting from others," the source added.
Love India news?
Stay updated with the latest happenings.
Yes, notify me
PM likely to take diplomatic route and refuse aids
The PM will now take the diplomatic route. It is a standard practice to thank the governments for their help, but politely tell them that India can't take monetary help.
Reportedly, on Saturday PM Modi expressed gratitude to UAE's Vice President and Prime Minister Sheikh Mohammed bin Rashid Al Maktoum.
Apart from UAE, the Maldives had announced Rs. 35 lakh for Kerala's rehabilitation.
After days of rainfall, Centre declared it 'severe calamity'
Notably, this policy doesn't cover foreign nationals and charity. "Their funds can be accepted through the remittance route," the source said.
Till now, nearly 400 people have died, and rain-ravaged Kerala has incurred losses to the tune of Rs. 19,512 crore. The Centre declared it a 'severe calamity'.
Incessant operations rescued over 43,000 people and around 12.47 lakh have been lodged at relief camps.
If you haven't helped Kerala, do it now!
If you still haven't helped Kerala, the time to act is now. Plus, it's easy!
You can contribute through Paytm. The app has an icon which makes contributing easy.
Alternatively, you can login to Amazon, select the NGOs you would like to make a donation to, add items in the cart, and pay.
You may purchase an 'essential kit' from BigBasket for Rs. 146.