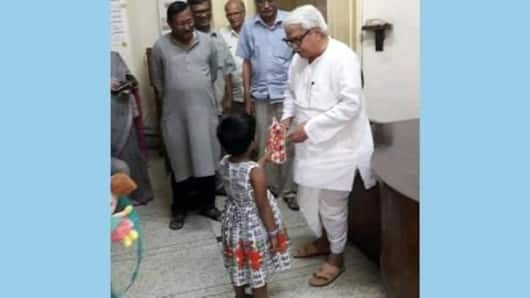 #KeralaReliefFund: 4-year-old girl donates Rs. 14,800 of piggy bank savings
A four-year-old girl from South Kolkata yesterday donated her piggy bank savings to the Kerala relief fund set up by the CPI(M).
Aparajita Saha, a resident of Jadavpur, had saved around Rs. 14,800 from the gifts she had received during her birthday to buy a CD player to rehearse for her dance classes.
She handed over the money to CPI(M) leader Biman Bose.
Want this money to be given to my sisters: Aparajita
After seeing the visuals of Kerala floods on TV channels, Aparajita decided to donate the money for the victims of the devastating floods.
Aparajita, along with her parents, visited the CPI(M) state (Kolkata) office and met party politburo member Biman Bose.
Aparajita handed over her piggy bank to Bose. "I want this (money) to be given to my sisters in Kerala," she said.