India
Karnataka refuses to release Cauvery water to Tamil Nadu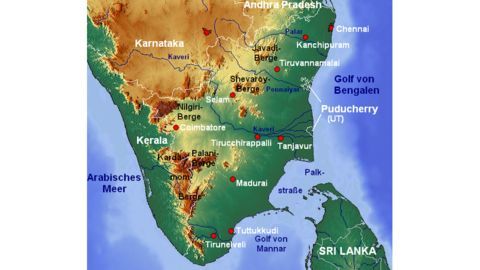 On Thursday, Karnataka CM Siddaramaiah said that they will not be able to share Cauvery's water with Tamil Nadu as the rainfall deficit has left Karnataka in distress.
According to the Karnataka water resources department, while Krishna Raj dam is at a deficit of 35%, Kabini is facing 60% deficit.
A delegation of Tamil Nadu farmers had appealed to release water for samba crops.
In context:
The Cauvery River Water Dispute
Information

Cauvery Water Disputes Tribunal
CWDT was constituted by the Indian Government on 2nd June 1990 to adjudicate the inter-state water dispute between Karnataka, Tamil Nadu, Kerala and Puducherry regarding the Cauvery river and its valley.
It passed an Interim Order in June 1991 and Clarificatory Orders in April 1992 and December 1995.
The final award of CWDT on Cauvery water sharing came into effect on February 19, 2013.
Details

Cauvery water disputes tribunal gazette notification
The final award of the CWDT defined the terms- normal year, water year and irrigation season, which was a bone of contention between Karnataka and TN.
In a normal year the yield of the Cauvery basin is 740 tmcft, Karnataka has to release 192 tmcft in monthly deliveries to TN.
In a distress year, the allocated shares shall be proportionately reduced among the members.
Love India news?


Stay updated with the latest happenings.
Dismal situation of Tamil Nadu farmers

Tamil Nadu is facing drought-like conditions, as they lost the short-term Kuruvai and Thaladi crops due to water shortage from Karnataka reservoirs. Now they are at the brink of losing long-term samba crops as well because the delayed release of Cauvery water is irrelevant now.
26 Aug 2016

Karnataka refuses to release Cauvery water to Tamil Nadu
On Tuesday people took out a protest march in Trichy condemning Karnataka's failure to release Cauvery water as per the tribunal's orders.
Last week around 6000 farmers and several politicians staged road blockades, resulting in several arrests in Thanjavur and Thiruvarur.
Former Karnataka CM, HD Kumaraswamy also held protests along with farmers in Mandya highlighting the dismal condition of farmers along the Cauvery delta.
26 Aug 2016

Tamil Nadu farmers' repeated demands
The farmers' demands are set against the backdrop of the Tamil Nadu government moving the SC to seek release of water as per the final award of CWDT.
They have said that if necessary, they would meet PM Modi to seek his intervention on the matter.
Siddaramaiah has called for a meeting of the leaders of both houses to discuss the situation.
Love India news?


Stay updated with the latest happenings.
05 Sep 2016

SC to Karnataka: Release 15000 cusecs of Cauvery to TN
The Supreme Court has ordered Karnataka to release 15000 cusecs of Cauvery water per day for the next day to alleviate the troubles of farmers in Tamil Nadu.
The SC passed the order, noting that if this is not done, the Samba crops in Tamil Nadu would fail, causing economic distress.
The court also asked TN to release the water to Pudducherry too.
07 Sep 2016

Karnataka begins releasing Cauvery water to TN
Under strict orders from the Supreme Court, Karnataka has begun releasing Cauvery water to Tamil Nadu, bringing respite to farmers in the state.
Under the orders, Karnataka began releasing 15,000 cusecs of water per day to Tamil Nadu to alleviate the stress on the Samba crop.
CM Siddaramaiah said Karnataka released the water as they couldn't "defy a constitutional body like the Supreme court."
09 Sep 2016

Bengaluru grinds to a halt as 'bandh' takes effect
In protest over the releasing of Cauvery water to Tamil Nadu, schools, colleges, commercial establishments, public transport and offices in Bengaluru have remained shut today.
In several parts of the city protesters set fire to tyres and chanted slogan's against the Supreme Court's decision.
Essential supplies like milk and hospitals are unaffected, however chemists are to remain shut, as are restaurants and banks.
10 Sep 2016

Karnataka CM writes to Prime Minister for prevailing Cauvery crisis
Karnataka's Chief Minister, Siddaramaiah, wrote a two-page letter to PM Narendra Modi pursuing his intervention in the Cauvery river crisis.
In it, Siddaramaiah mentioned that the continuation of releasing water into Tamil Nadu would soon cause deprivation of drinking water along with burdening the IT industry.
The CM wants to have a joint meeting with J Jayalalitha, CM of Tamil Nadu and the PM.
12 Sep 2016

Cauvery committee agrees to SC guidelines on conflict
The Cauvery Supervisory Committee headed by the Union Water Resources Secretary has agreed to adhere to the guidelines stipulated by the Supreme Court regarding the Cauvery water dispute.
The committee will now meet to fix the quantum of water that Karnataka would release to Tamil Nadu and other states.
The SC had earlier directed Karnataka to release 15000 cusecs/day for 10 days to TN.