India
AI's Plane Wing nearly Collided with SpiceJet's Airport Shuttle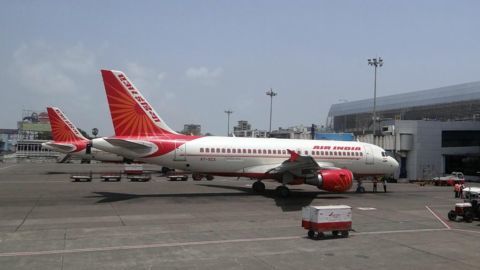 On 27th August, 2016, 30 passengers on a SpiceJet bus at the Jabalpur airport descended in fright due to an Air India aircraft taxiing in their direction.
The AI-subsidiary, Alliance Air's plane's wing moved past the SpiceJet bus very closely but no one was hurt.
The passengers in the SpiceJet bus were being moved towards the terminal building.
In context:
The possible Collision of AI and SpiceJet
Situation

Unfolding of Events
According to the incident report filed by Spice Jet, the passing by of the Air India flight without sustaining the regulated distance, was noticed by SpiceJet staff.
Despite of efforts to reach out to the captain of the Air India flight, the plane kept proceeding.
This was noticed by one of the passengers aboard the SpiceJet bus who rushed down, followed by the rest.
Reason

Why did this happen?
According to sources, the failure of safety occurred as there was improper marshalling of the Air India aircraft.
Marshalling is used to refer to the communication of visual signals between the person on the ground and the pilot for the movement of the aircraft while take-off, landing, parking or hovering.
Air India's plane was being marshalled by a helper instead of a trained personnel.
Love India news?


Stay updated with the latest happenings.
The Other Side

An official from Air India said, "There was safe distance between our aircraft and SpiceJet Q400. However, after parking, the SpiceJet captain got physically abusive with our technician. A

CCTV

footage is available with ATC."
29 Aug 2016

AI's Plane Wing nearly Collided with SpiceJet's Airport Shuttle
"Prima Facie" fault

According to a senior

Directorate General of Civil Aviation

(DGCA) officer, "The AI aircraft was not being marshalled to the bay by either a trained marshal or a technician. This is not acceptable and the same has been conveyed to the DGCA acting chief."