Cracks on flyover in Thane; closed for vehicular traffic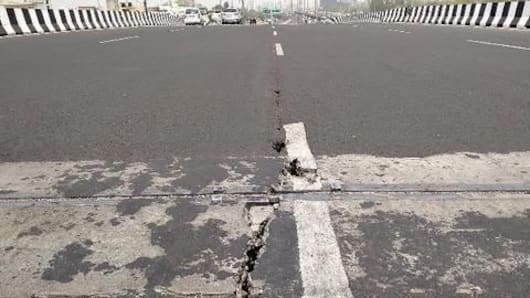 A flyover in the Bhiwandi power loom town of Thane in Maharashtra developed cracks and was closed on Wednesday for vehicular traffic.
A slab of the Rajiv Gandhi Flyover developed cracks. A "crater" was formed on the bridge after some of its cement plaster fell off, an official of the Bhiwandi Nizampur Municipal Corporation's Disaster Control Cell said.
In context
Cracks on Thane flyover forces closure of traffic
Details
Recently, Maharashtra CM Devendra Fadnavis traveled on the bridge
Notably, Maharashtra Chief Minister Devendra Fadnavis had traveled on Monday on the bridge during his visit to the town to attend the 'Dahi Handi' festival on Krishna Janmashtami.
Some of the iron rods on the bridge were also dangling precariously.
Bhiwandi Nizampur Municipal Commissioner Manohar Hirey and Disaster Cell Chief Suresh Gaikwad conducted an inspection of the flyover on Wednesday morning.