India
18 crore workers join Bharat Bandh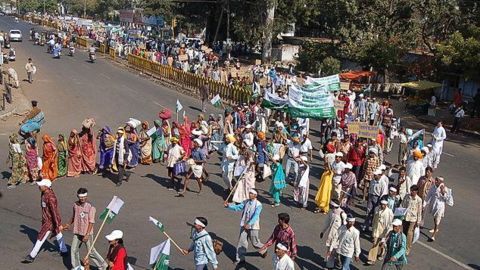 On Friday, 10 Central Trade Unions, including Congress's INTUC, and Left's CITU and AITUC, began their one-day long nationwide strike to protest against 'anti-labour policies' of the government.
Bharatiya Mazdoor Sangh, Indian Railways and central government employees will not join the strike as they believe that the government has accepted their demands.
Essential services such as banking, public transport and telecom will be hit.
In context:
All India Strike by Trade Unions
Trade Unions' strike in September 2015

In September 2015, trade unions went on a similar strike when 14 crore workers protested over the government's plans to introduce labor reform bills in Parliament. However, unions have claimed that this year's strike will be bigger as 18 crore workers are expected to participate.
Details

Government reforms
In June'16, the government approved more than 14% increase in salaries and pensions for 10 million government employees, which will cost $17 billion in the FY2016-17.
On Tuesday, the government raised minimum wages for unskilled non-agricultural workers to Rs.350/day.
According to Radhika Rao, an economist at DBS Bank, the government's own fiscal deficit targets have tied their hands from deploying more reforms.
Love India news?


Stay updated with the latest happenings.
Finance Minister's statement

On Tuesday, Arun Jaitley said that Central Government employees will get their two years' bonus, which has been pending and will increase minimum wages for unskilled labourers, which will translate into almost Rs.1,920 crore per annum. However, the unions have rejected the government's appeal.
Dissent

Centre of Indian Trade Unions rejects Government's appeal
CITU rejected Labour Minister Bandaru Dattatreya's claim that the NDA government was committed to fair-earning and social-security among workers.
It alleged that "misinformation-campaigning" created confusion to sabotage the strike.
It also attacked BMS for accepting the meagre hike in minimum wages and refusing to be part of the strike.
Last year also, the RSS-affiliated union opted-out of the strike at the last moment.
Details

Demands of the Central Trade Unions
The CTUs are protesting against the alleged Government's apathy towards their 12-point charter of demands.
The charter includes demands for increasing the minimum wage for unskilled workers to Rs.15,000 per month, with provisions of indexation and demands for social security for workers and assured enhanced pension of Rs.3,000 per month.
Removal of FDI from railways, defence and other "strategic sectors" were also demanded.
02 Sep 2016

18 crore workers join Bharat Bandh
Love India news?


Stay updated with the latest happenings.
Demonstrations

The working class' 'grand protest'
There were processions in industrial clusters of Delhi such as Okhla, Kirti Nagar, Mayapuri, Wazirpur, Jhilmil-Shahdara, Patparganj and Mangolpuri from the morning.
Employees from banks, insurance, universities, postal, telecom, defence and oil sectors will participate in a procession from Jantar Mantar to Parliament.
Chakka-jam will take place in 11 states including Andhra Pradesh, Telangana, Tamil Nadu, Bihar, Chhattisgarh, Madhya Pradesh and Karnataka.
Highlights

A closer look at 'Bharat Bandh'
Some public banks have decided to join the strike, private banks and ATMs will remain functional.
The strike has shut-down Kerala and most of Karnataka, but in Delhi and Mumbai buses are running and essential services like power and water supply haven't been affected.
Mamata Banerjee has said her Government won't allow offices or factories to close and public transport will run as usual.
03 Sep 2016

Strike evokes mixed responses
CTUs claimed that the strike was successful, while CPI described it as the "most successful" strike, whereas Government said the impact was minimal.
The labour ministry stated that important sectors like railways, civil aviation and major ports remained unaffected, banking and insurance, coal, telecom and defence production were partially affected while transport and steel were marginally affected.
Kerala and Tripura were most severely impacted.