Bihar-shocker: Man buries wife inside house, as villagers deny cremation-land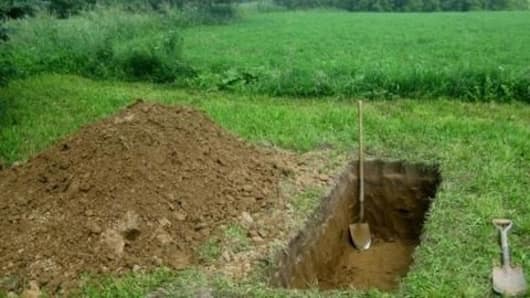 In a shocking incident, a Mahadalit in Kewatgama village of Madhepura district in Bihar buried his dead wife inside his house, as villagers denied land for the cremation.
The 40-year-old landless worker was identified as Harinarayan Rishidev. His wife Sahogiya Devi fell ill on Sunday and died a day later.
In the absence of community crematorium, he took the decision, reports HT.
In context
Bihar: Denied land, Mahadalit buries wife inside home
Details
Denied life of dignity, death doesn't change things either
The Nitish Kumar government made a new category 'Mahadalit' for the poorest of the Dalits. This heartbreaking incident only highlights the plight of the downtrodden.
Harinarayan said people like him were denied a life of dignity and even in death things remain same.
"When no villager was ready to allow cremation on their land, I decided to bury her in my house," he said.
The support
Hariharan finds support among members of his community
Hariharan's decision struck a chord with those belonging to his community, who said this highlighted the ugly side.
Karo Devi, a resident of the same village, said this showed how Scheduled Caste people are treated across the nation.
Former village head Bechan Rishidev said, "Harinarayan's agony should move the government". He said if corrective measures aren't taken, they will launch a peaceful agitation.
Love India news?
Stay updated with the latest happenings.
Notify Me
Locals doubt government's claims and promises
"The government claims that it will provide us land and jobs but we are sceptic about their hollow claims and false promises," Bechan said. Another villager Kailash Rishidev asked why the government failed to provide them dignity even in death.
Agitation
Senior officers said they will speak to village elders
Meanwhile, Madhepura's sub-divisional officer (SDO) Brinda Lal and Kumarkhand circle officer paid a visit to the village, on learning about the incident.
Lal said he would speak to elders and the panchayat mukhiya for a piece of land, which will be used for cremation.
Despite, the promises the Mahadalits weren't pacified. Kailash said protecting the basic rights of the community was important. Most asked questions
How is 'Mahadalit' category different from 'Dalit' category?
How is 'Mahadalit' category different from 'Dalit' category?
Asked on 13-09-2018 by Anonymous
Answered by NewsBytes
'Mahadalit' is a part of Dalit category. It is a term used for the marginalized sections among the Scheduled Castes of Bihar. The Dalit category consists of 22 caste groups and Mahaalits are considered as the poorest and lowest section among the Dalits.