Children separated from jailed mothers must visit them regularly: Maneka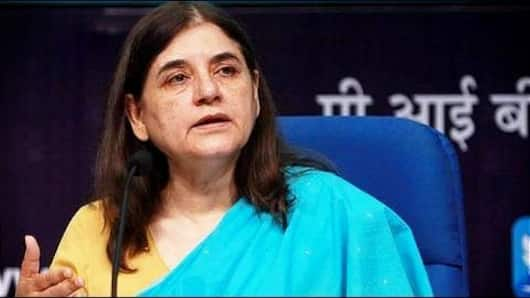 Women and Child Development Minister Maneka Gandhi proposed that a child separated from jailed mother must be made to visit her in prison at least thrice weekly, amid incidents of such children getting trafficked.
WCD Ministry asked Home Ministry to include a clause in the prison manual under which children are made to visit their mother so that she doesn't lose touch with them.
In context
Maneka Gandhi on children separated from jailed mothers
Details
Half of the mothers don't know whereabouts of children: Gandhi
"When a child is born in prison, the mother raises him/her there till five years of age and suddenly after five years of age, the child is separated from the mother," Gandhi said.
"We found that half of the mothers whose children have been separated don't know whereabouts of their children. Many of them get trafficked," the WCD Minister added.
Jailed mothers
Mothers unable to locate children after leaving prison: Official
"We are planning to add a clause under prison manual if a child is taken away then she/he has to be presented to see his/her mother thrice a week and the child should not be allowed to leave the district," Gandhi said.
The proposal comes amid reports of mothers unable to locate their child after leaving prison, a senior WCD Ministry official said.
Love India news?
Stay updated with the latest happenings.
Notify Me
Regular interaction
There should be regular interaction between mother, child: Gandhi
"After a child is taken away from the mother, the child goes to a shelter home and the shelter home gets disconnected from the prison...the mother loses contact with the child," the official said.
He added that Gandhi said there should be a system under which there is a regular interaction with the mother and for that, the WCD Ministry approached the Home Ministry.
A blessing
A blessing for jailed mother and child: Child rights activist
Sumaira Kumar, a child rights activist, said it's a good move to keep children in touch with mothers in prison.
"There have been several such cases where the child has lost touch with the mother in prison. If such a decision is taken then it would be a blessing for the mother and the child but strict implementation has to be followed," Kumar added.