India
Delhi reports its first Chikungunya fatality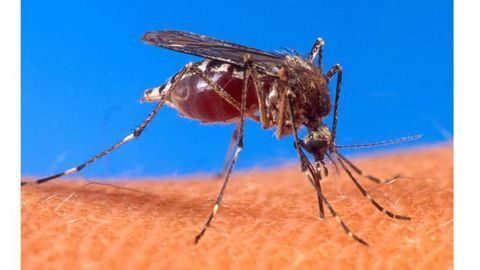 A 65-year-old man, R. Pandey, succumbed to chikungunya on Monday at Sir Ganga Ram hospital in west Delhi.
The dengue-chikungunya outbreak has reached an alarming scale, as Delhi-NCR reported 1,057 cases of chikungunya over the last week and the first fatality on Monday.
To curb the impending epidemic, Municipal Corporation of Delhi has issued challans to buildings feared as breeding grounds for vector-borne diseases.
In context:
Delhi in the grip of Vector Borne Diseases
Information

What is Chikungunya?
Chikungunya is a mosquito-borne virus that causes sudden onset of fever and severe joint pain.
It is passed to humans by two species of mosquitoes of the genus Aedes, A. albopictus and A. aegypti.
Symptoms usually appear 2-7 days after being bitten by an infected mosquito.
Currently, no vaccine or antiviral treatment exists but supportive care is recommended. The disease is very rarely fatal.
Dengue and chikungunya cases on the rise

According to reports, the national capital has reported 1,158 dengue cases and 1,057 cases of chikungunya so far this year. Last year, Delhi registered 64 cases of chikungunya. Cases of dengue have risen over 50%, with 387 cases reported this month.
Love India news?


Stay updated with the latest happenings.
Poor Conditions

Delhi unprepared for the outbreak
Delhi has less than 3 beds per 1,000 people, far less than 5 per 1,000 recommended by WHO.
MCD has launched 10,508 prosecutions and issued 1.05 lakh legal notices, against government offices, schools and hospitals for allowing mosquito breeding on premises.
Offices of MTNL, Northern Railways, Delhi Jal Board, Delhi Development Authority, Bara Hindu Rao Hospital, Zakir Hussain College among others were fined.
Undue advantage

Private hospitals ripping-off patients
The AAP government declared a cap of Rs.600 on IgM serology test on 30 August, but is yet to declare a price-cap on the real time PCR test.
Private hospitals are taking advantage of the delay by charging as high as Rs.4,000 for each test, creating confusion among patients.
CM Arvind Kejriwal, is currently in Punjab while health minister Satyender Jain is in Goa.
13 Sep 2016

Delhi reports its first Chikungunya fatality
Information

Some facts about Chikungunya
Chikungunya strikes without prior warning, with almost 103-105 degree fever.
If blood tests are done early, i.e. after 8-10 days from the start of the fever, it is likely to be negative 60-70% times.
There is no specific treatment, however, administration of non-steroidal, anti-inflammatory drugs and getting plenty of rest might help.
Chikungunya can affect a person only once in a lifetime.
Love India news?


Stay updated with the latest happenings.
15 Sep 2016

Centre asks Delhi to probe spike in Chikungunya deaths
The Centre has asked the Delhi government to probe the deaths of 10 individuals in the capital, suspected of having died of Chikungunya.
The Centre asked the AAP government to ascertain the cause of death, and identify if other prevalent health conditions in the patients may have led to their death.
The decision was announced by Union Health Minister JP Nadda.
18 Sep 2016

Delhi: Chikungunya toll rises to 15
The death toll from Chikungunya in Delhi has risen to 15, and over 2800 people have been infected with various vector borne diseases in the city.
The review committee set up by the Delhi government has however stated that Chikungunya was not the primary cause of death, blaming it on "co-morbid conditions" in patients and hospitals.
Mass awareness campaigns are being launched as well.
20 Sep 2016

Massive spike in Chikungunya cases in Delhi
Authorities said that over the last week over there was an increase of over 150% in cases of Chikungunya in the city.
Over 4000 people have been infected by Chikungunya in Delhi, of which 1568 cases were reported in one single week, primarily in areas falling under SDMC limits.
In addition over 220 cases of dengue were also reported in the city.
26 Sep 2016

CAG accuses Delhi of under-reporting Dengue toll
The Comptroller and Auditor General's office has accused the AAP government in Delhi of under reporting the severity of the dengue outbreak in the capital.
The CAG said that hospitals reported 409 dengue deaths in 2015, while the state's death review committee confirmed only 60 from Delhi.
It added that only 33% of total confirmed cases were reported to the Centre.
03 Oct 2016

Chikungunya cases: SC fines Delhi health minister
The Supreme Court imposed a fine of Rs.25000 on Delhi Health Minister Satyendra Jain for not disclosing names of officials who were uncooperative amid the Chikungunya outbreak in the city.
Jain accused BJP officials of shirking cleaning responsibilities, leading to infectious diseases; the court asked him to name such officials.
The court castigated Jain for making such comments while people were dying in hospitals.