India
Police-CRPF at loggerheads over Jangalmahal extremist scare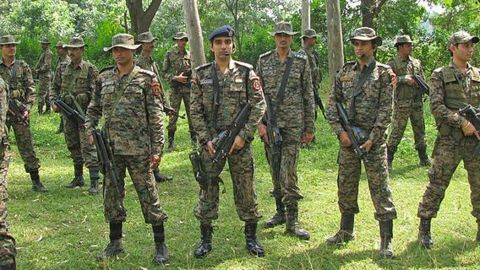 The recovery of a 10-kg landmine from Kushbani Forest in Jhargram has fuelled the renewed threat of a Maoist insurgency in Jangalmahal and adjoining areas.
Central forces and the state police are in disagreement over the issue of this renewed extremist scare in West Midnapore area.
Jhargram District SP Bharati Ghosh labelled it as a 'fabricated incident' by the Central Paramilitary Forces.
In context:
Renewed fear of Maoist insurgency at Jangalmahal
Geographical Location

Jangalmahal region in West Bengal
Jangalmahal is a forest area in the south-western district of West Bengal, which was named as 'Jungle Mahal' by the British.
It was a district formed by British possessions, lying between Birbhum, Bankura, Midnapore and Chota Nagpur, what is now the state of West Bengal.
It is a thickly forested region inhabited by tribal groups like the Santhals and is a hotbed for Maoists.
30 Dec 2014

Mamata Banerjee terms Jangalmahal a "peace model"
During a program in Jhargram in West Midnapore, Mamata Banerjee lauded the "success story" of restoring peace in Jangalmahal, earlier a Maoist hotbed.
Criticizing the former Left Government, she claimed that TMC had unleashed a tide of development.
She also announced a grant of Rs.1 lakh for 600 police stations for sports development and inaugurated the first edition of the 3 day "Jangalmahal Utsab".
Love India news?


Stay updated with the latest happenings.
13 Sep 2016

Police-CRPF at loggerheads over Jangalmahal extremist scare
Details

The landmine discovery
The 10 kg landmine was discovered at Kushbani forests of Binpur, on Thursday night.
In a joint-operation with the CoBRA forces, CRPF personnel cordoned-off the whole area before defusing the bomb.
CRPF Deputy Commandant Bijay Kumar Mullick said that the mine must be new and should have been planted a few days ago and suspected it to be the work of Maoists.
Denial

State police rubbishes the claims of CRPF
The claims of the paramilitary forces were brushed aside by state police officials, especially SP Bharati Ghosh who termed it "a concocted incident".
According to her, the landmine discovery is false and a fabricated set-up to disrupt the peace established in the district.
However, surveillance in the area has been tightened and forces have been combing the region on a regular basis.
IPS officer Bharati Ghosh's proximity to CM Banerjee

Bharati Ghosh has often courted controversy due to her unabashed proximity to TMC Chief Mamata Banerjee. During 2016 state assembly

elections

she was restrained from visiting the poll booths by the

Election Commission

after charges of bias were filed against her.