India
SBI, IDFC Bank, Paytm, others set to issue e-toll tags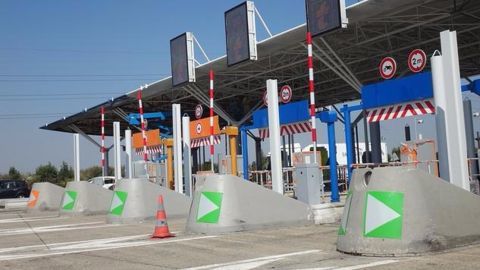 India's top banks such as the State Bank of India, Punjab National Bank, IDFC Bank and online wallet Paytm, are set to issue electronic tags for vehicles.
The tags, to promote e-tolls, will help enable electronic toll collection across the country's highways.
The measure is aimed at increasing cashless payments and passage through the toll plazas to over 50 percent by 2018.
In context:
Banks, NHAI introduce e-toll tags
What are e-toll tags?

E-toll refers to the toll collected at toll plazas, but allowing cashless payment. This will help increase the usage of automatic passages through the tolls. To enable cashless payment, e-toll tags have to be issued for vehicles, and these are usually provided by banks.
15 Sep 2016

SBI, IDFC Bank, Paytm, others set to issue e-toll tags
Love India news?


Stay updated with the latest happenings.
RFID chips

How do e-toll tags work?
For enabling e-toll tags and effecting it for cashless payments, each vehicle is given an RFID chip.
An RFID chip will help to identify tags that are attached to an object with the help of electromagnetic waves.
The chip attached to the windshield of the vehicle will be read at the toll plaza, and the amount will be deducted from one's bank account/digital wallet.
National Highways Authority to tie up with more banks

"Our intent is to have a seamless commutation at all the toll plazas. We have initially tied up with

ICICI Bank

and they have so far issued 60,000 pass tags. A few more banks are now coming forward to assist us in this project."- NHAI
15 Sep 2016

How will the new e-toll tags be effected?
National Highways Authority's chairman told reporters that currently electronic toll collection is operational across 356 toll plazas.
The new issuance of e-toll tags will first see the banks and the digital wallet service Paytm on trial runs to test their systems with the National Payments Corporation's servers.
The body is also looking to persuade the RBI to liberalize regulations related to e-toll tags.
NHAI to target 50,000 tags each month

"Our intent is that we issue at least 50,000 pass tags every month and over the next 12-24 months nearly 50 per cent of the traffic movement across the toll plazas," National Highways Authority (NHAI) chairman Raghav Chandra said.