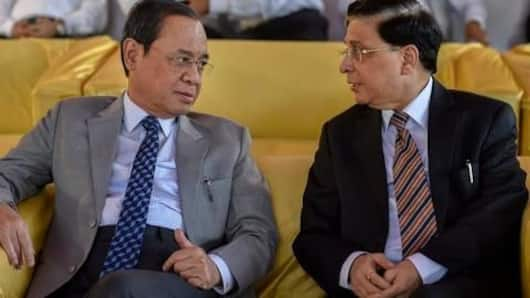 CJI-Designate Justice Ranjan Gogoi praises outgoing CJI Dipak Misra
Chief Justice of India-Designate, Justice Ranjan Gogoi, today praised the outgoing CJI Dipak Misra saying that his greatest contribution has been to civil liberties, and cited his recent verdicts in this regard.
Justice Gogoi, who will be sworn-in as the CJI on October 3, said Justice Misra was a remarkable judge.
Justice Misra will retire as the CJI on October 2.
Some wise words by Justice Gogoi
Justice Gogoi said, "If we fail in endeavor to hold true to our Constitutional ideals, we will continue to kill, hate each other," adding that the judges in the Supreme Court will remain committed.
"We live in times when what we should eat, wear have stopped being little things of our personal lives," Justice Gogoi said while addressing the farewell function for CJI Misra.