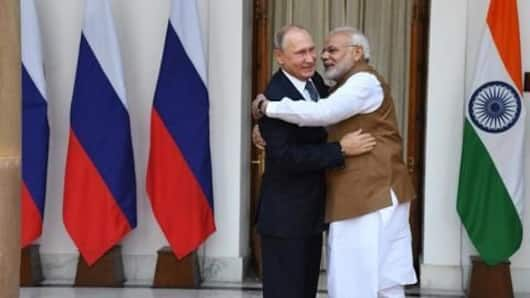 #IndiaRussiaTies: $5 billion deal for S-400 Triumf missile systems signed
On Friday, Russian President Vladimir Putin signed the deal with Prime Minister Narendra Modi which will let India procure five Russian S-400 Triumf missile shield systems.
An official announcement regarding this crucial deal will be made soon, sources in the know said.
The $5 billion deal will give India Moscow's most advanced ground-to-air missile and will boost ties between the two countries.
These missile systems are the most powerful in the world
India intends to change the strategic balance of the sub-continent with the S-400 Triumf missile systems. The missile system can target aircraft, unmanned aerial vehicles, and cruise missiles within a range of 400 km and altitude of 30 km.
It will provide India security along the 4,000 km long Indo-China border, and also come in handy during an attack from Beijing or Islamabad.
S-400 missile systems can engage several airborne targets at once
Integrated with multifunction radar, autonomous detection and targeting systems, anti-aircraft missile systems, launchers, and command and control center, S-400 missile systems have defended Moscow several times.
It can engage many airborne targets simultaneously.
According to Army Technology, it is two times more effective than previous Russia air defense systems.
Notably, it was deployed in war-torn Syria to defend Russian and Syrian assets.
Love India news?
Stay updated with the latest happenings.
Yes, notify me
Nirmala Sitharaman said India has legacy of buying Russian equipment
Notably, China had already purchased the advanced missile systems and delivery began in January this year.
Earlier, Defense Minister Nirmala Sitharaman said, "We have a big legacy of buying defense equipment from Russia". Before the Soviet Union disintegrated, 80 per cent of India's military equipment was purchased from there.
This deal puts the Indo-Russia ties back on a progressive track.
India has risked US sanctions by signing deal
Under the Countering America's Adversaries through Sanctions Act or CAATSA, the United States can impose sanctions on countries which have 'significant transactions' with Iran, North Korea or Russia.
About the Indian purchase from Russia, a State Department spokesperson said 'focus' of sanctions would be on the S-400 air and missile defense system.
The US had urged its allies to forgo any deal with Russia.
India and Russia likely to sign 20 agreements
India is also looking to purchase 4 Krivak-class frigates, two of which will be built in Goa. The leaders, Modi and Putin, are also expected to sign 20 agreements and discuss key regional and global issues during their third meeting this year.