India
PM Modi mulls setting up team to investigate defence scams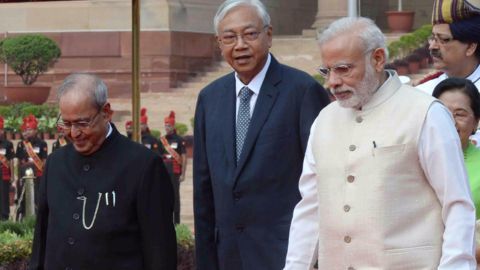 India's Prime Minister Narendra Modi is looking to set up a specialized team that will investigate the multitude of defence scams that stung the nation.
Modi is considering the proposal which had come up during a Cabinet meeting.
Officials said that an independent team, constituting CBI officials, can launch probes into high-profile defence scams.
One obstacle would be sparing CBI officials for the investigations.
In context:
Modi mulls launching team to investigate defence scams
The Bofors scam was one of the biggest political scams to hit India during the 1980s.
The Bofors scandal brought to light the many illegal monetary gains that the Indian government received from the Swedish ammunition maker Bofors AB.
The deal, worth $1.4 billion, was Sweden's biggest arms deal and probes later revealed many institutional laws were broken to ink the deal.
The HDW case surfaced when the allegations cropped up that submarines supplied by German company HDW to the Indian Navy had witnessed high amounts exchanged as bribes.
India's Central Bureau of Investigation alleged that almost 7% of the deal, nearly Rs.420 crores was paid as commission by the supplier.
When the allegations came to light, an inquiry was made into the matter.
Love India news?


Stay updated with the latest happenings.
The Tatra scam highlighted bribery and corruption amidst the Indian government company BEML obtaining kickbacks for sourcing its trucks' components from a British middleman.
Regulations state that all defence purchases need to be made from the original equipment manufacturer (OEM).
A British subsidiary, Tatra Sipox (UK) Ltd of Slovakian company emerged as the company involved in paying bribes worth Rs.750 crore to defence officials.
The helicopter scam

Augusta Westland case
In early 2000, India's Congress government had placed an order with the British company Augusta Westland to help procure 12 choppers for the Indian Air Force.
The deal, worth Rs.3,600 crore, was later stalled because the CEO of Augusta Westland was arrested under claims that he bribed middlemen to ink the contract.
An Italian court named IAF's former chief SP Tyagi in the scam.
Most recent

Brazil's Embraer-DRDO scam
Brazilian aircraft manufacturer Embraer is being probed by US Department of Justice and prosecutors in Brazil over allegations of high commissions paid to clinch the deal.
The deal was signed in 2008 by Embraer and India's DRDO for $208 million.
The contract was signed to procure three jets equipped with radars and control systems.
The DRDO has asked Embraer for details on the bribes.
18 Sep 2016

PM Modi mulls setting up team to investigate defence scams
Love India news?


Stay updated with the latest happenings.
Independent team to investigate defence bribery allegations

"Forming an independent team of selective officials to handle bribery allegations in defence deals will be an option, as most of these probes require overseas intervention", an official said.