Puri violence: 5 policemen suspended for negligence, 18 persons arrested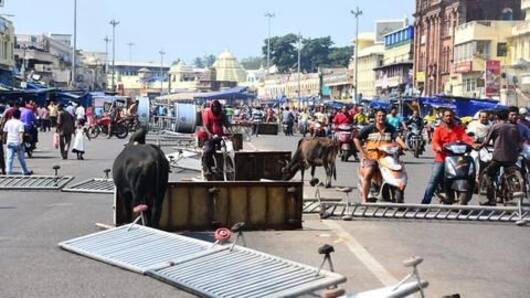 Five policemen have been suspended for dereliction of duty following the violence that rocked Puri on October 3 over protests at Jagannath temple, police said.
A havaldar and four constables were placed under suspension on Sunday for negligence in discharging duties during a bandh when protesters ransacked the house of Revenue Minister and Puri MLA, Maheswar Mohanty, said Sarthak Sarangi, Puri SP.
In context
#PuriViolence: 5 policemen suspended over dereliction of duty
Details
18 others arrested in connection with violent incidents
The police personnel were deployed at Mohanty's residence at Kumutisahi locality in the pilgrim town.
Apart from this, as many as 18 persons were arrested Sunday in connection with the violent incidents that took place during the 12-hour shut-down called by socio-cultural outfit Sri Jagannath Sena in order to protest the introduction of the queue system for devotees at the Jagannath temple, said Sarangi.
Arrests
47 persons identified for indulging in violence
With this, the total number of people arrested in this connection stands at 41 so far.
On the basis of CCTV footage, as many as 47 persons have been identified for indulging in violence during the protest, the SP said, adding efforts are on to arrest the rest.
The seaside town had virtually turned into a battlefield after large-scale violence erupted during the bandh.