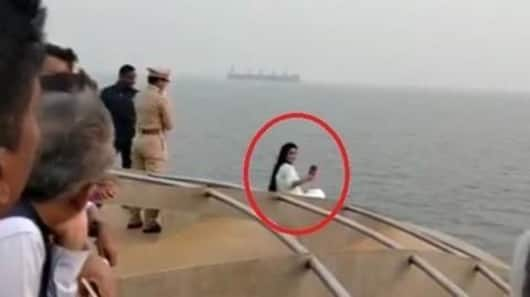 After getting trolled for risky selfie, Devendra Fadnavis's wife apologizes
Amruta Fadnavis, the wife of Maharashtra CM Devendra Fadnavis, said today that she was ready to apologize after a video, showing her clicking a selfie sitting on the edge of a cruise ship, went viral.
She, however, maintained that the spot where she was sitting was safe.
After the video circulated, Amruta was trolled on Twitter for allegedly taking selfie in a risky way.
Spot wasn't dangerous as there were two more steps: Amruta
Amruta took the selfie during the inauguration of domestic cruise-liner Angriya in Mumbai on Oct 20.
"The spot where I clicked selfie wasn't dangerous because there were two more steps below," she told media.
"If anyone thinks I've made some mistake, then I apologize for it. I want to tell the youth that they shouldn't take excessive risk to take a selfie," she said.