India
Singapore PM Lee Hsien Loong on a five-day India trip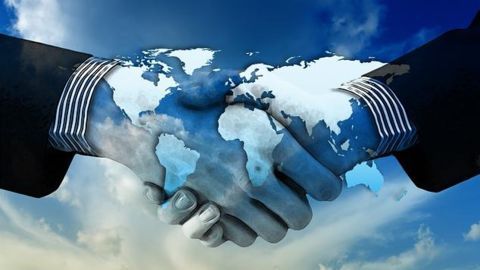 Lee Hsien Loong, Prime Minister of Singapore arrived in India on 3rd Oct on a five-day visit, the focus of which is to strengthen bilateral ties.
Deepening trade and investment amongst bilateral ties will be the focal point of his visit.
His wife, Ho Ching and a number of key ministers and senior officials are accompanying PM Loong on this visit.
In context:
Singaporean Prime Minister's visit to India
Relations

India-Singapore bilateral relations
Traditionally, the Republic of India and the Republic of Singapore have enjoyed strong and friendly relations.
Both countries have signed the Comprehensive Economic Cooperation Agreement (CECA) to boost trade, investments and economic cooperation.
Along with these, bilateral cooperation on maritime security, training forces, joint naval exercises, developing military technology and fighting terrorism together have also expanded over the years.
04 Oct 2016

Singapore PM Lee Hsien Loong on a five-day India trip
Love India news?


Stay updated with the latest happenings.
New Delhi

Meeting PM Narendra Modi
On Tuesday, 4th October, 2016, PM Loong will meet PM Modi, who will be hosting him for lunch in New Delhi.
India and Singapore enhanced their relationship to a strategic partnership during Modi's visit to Singapore in November 2015.
Bilateral talks will be held to explore ways to boost relationships between the two nations.
Both Prime Ministers will sign three memorandums of understandings (MOUs).
MOUs

Memorandums of Understanding
The first MOU covers co-operation regarding industrial property between the Intellectual Property Office in Singapore and the Indian Department of Industrial Policy and Promotion.
The second MOU covers cooperation in organizing a North East Skills Centre in Assam.
The third one is on cooperation in the development of skills, between Institute of Technical Education (ITE) Education services and Indian National Skill Development Corporation.
Itinerary

Other things PM Lee Hsien Loong will do
Apart from meeting PM Modi, PM Loong will call on Indian President Pranab Mukherjee and receive a call from Minister of External Affairs Sushma Swaraj.
On Wednesday (5th October), he will travel to Udaipur in Rajasthan.
The Chief Minister of Rajasthan, Vasundhara Raje will host PM Loong for lunch.
He will also attend the launch of the Centre of Excellence for Tourism Training, Rajasthan.
Signing agreements in Rajasthan

Two agreements will be signed on Lee's visit to Udaipur - One MOU on cooperation on tourism and urban solutions between IE Singapore and the government of Rajasthan and another agreement on a capacity-building program in tourism and hospitality.
Love India news?


Stay updated with the latest happenings.
06 Oct 2016

Singapore PM condemns cross-border terrorism
On his visit to India, Prime Minister Lee Hsien Loong displayed solidarity with India over the death of 18 soldiers in the globally criticized Uri attack.
In a joint press conference with PM Modi, both the Prime Ministers encouraged people to believe in peace and harmony to defeat cross-border terrorism hand-in-hand.
They also said that both the countries would enhance their anti-terror bilateral efforts.