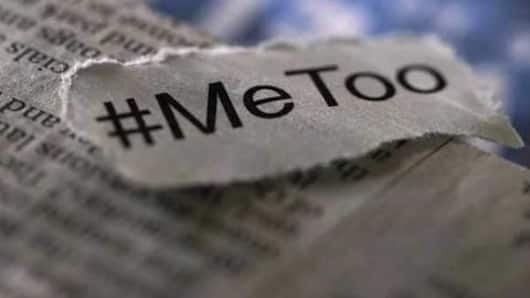 #MeToo: Former Taj Hotels' employee names then CEO as harasser
In November 2015, a Taj Hotels employee resigned and in letter alleged the then CEO and MD, Rakesh Sarna sexually harassed her.
The letter surfaced in media during the time the Tata group was in the middle of Cyrus Mistry-Ratan Tata tussle.
Now years later, the employee has spoken again and she said #MeToo movement gave her courage, IE reports.
Here's her story.
Anjuli Pandit worked in Cyrus Mistry's office
Anjuli Pandit, a US citizen and an Overseas Citizen of India (OCI) card holder, joined Tata Sons in January 2014 and worked in Cyrus Mistry's office.
As part of her 'dream job', she handled government relations with Europe, the Middle East, and North Africa.
One year later, Sarna asked her if she would like to join Taj Hotels as his executive assistant.
An uncomfortable call later, Pandit understood Sarna's intentions
Speaking to IE, Pandit said sometime in December she had an uncomfortable phone call with Sarna to discuss her salary.
When she told him the proposed remuneration made her unhappy, he replied, "I think you are beautiful enough to pay you a crore but I don't have that kind of money honey".
Pandit said this was the first hint for her.
Love India news?
Stay updated with the latest happenings.
Yes, notify me
Sarna commented on her looks, Pandit clarified she's not interested
Pandit told IE that the seven months she worked as Sarna's assistant were taxing. He commented on her looks and was vocal about his desire to have an affair with her.
"I was not interested at all. Whether I deflected, professionally requested, or burst into tears in frustration, he persisted," she said and added the environment became unbearable for her.
Pandit approached the higher authorities, was told to resign
Pandit didn't take the POSH (Prevention of Sexual Harassment) committee route as Sarna and his subordinates were part of it.
She approached Taj Board members, Tata Group Executive Council members, and the office of the Chairperson.
Their solution was Pandit's resignation, and demotion to 'mediocre-at-best position'.
Frustrated with this, Pandit knocked the doors of Tata Sons, the largest shareholder.
When no one helped her, Pandit resigned from company
Despite approaching Chairperson and Tata Sons, nothing fruitful came out for Pandit. In the end, she was demoted to a back-office job at communications team at Tata Sons.
In November 2015, she resigned and in her letter mentioned she would move on to an organization which respected women.
A year later, law firm AZB & Partners approached her asking her to sign a letter.
The letter had terms and conditions, she didn't sign it
The law firm, which contacted her on Tata's behalf, wanted her to sign a declaration that she left the company due to personal reasons.
The letter also mentioned that media can't write 'speculative stories about her stint', and if they do she might take legal action. She didn't sign it.
Notably, her resignation letter was leaked in media and she wasn't happy about it.
About leak, Pandit said she was made a pawn
"It was during the Cyrus Mistry-Ratan Tata face-off and Sarna was known to be close to Mistry...I was horrified that the letter was leaked and I was a mere pawn in this power struggle despite me keeping quiet," she said.
After she refused to sign letter, committee was formed
Later, a new committee was set up by Tata Sons to probe the matter.
In her deposition at Tata Capital Office in Mumbai in August 2016, Pandit highlighted Sarna's behavior, how he didn't mark her in emails when she rebuffed him and spoke about living with her in Miami.
Sarna resigned in May 2017, but the report's findings are yet to be seen by Pandit.
Here's what those involved in matter said about it
When contacted by IE, IHCL (Taj Hotels) spokesperson, said the matter was dealt with by an independent committee. Tata Sons said the issue pertained to the hotels, and AZB's Zia Mody didn't comment when asked about the letter.