India
PMO warns Railways, asks to fix safety issues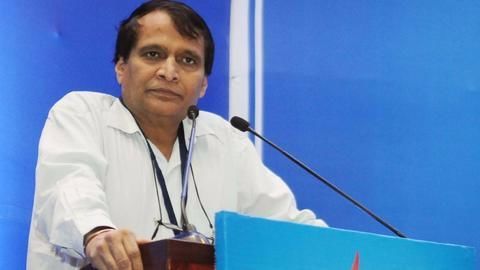 In the wake of several railway accidents that left over 225 dead, the Prime Minister's Office has written to Railway Minister Suresh Prabhu, indicating displeasure with the department's performance.
It mentions the severe gap between proposed targets of 2016 and actual work done.
After providing an impressive budget of Rs. 1,31,000cr, the letter asked railways to "justify higher allocation in the next budget".
In context:
Safety issues continue to hamper Indian railways
Background

Safety issues plague Indian Railways
Safety issues in the Indian railways continue to be a major concern.
A study of railway accidents during 2009 - 2014 indicated that a large chunk of accidents were due to derailments and accidents at level crossings.
Despite number of accidents dropping every year, nonetheless there were 52 derailments last year.
However, number of passenger casualties has significantly dropped since 2012-13.
Cause for accidents

Between 2009-2014, there were a total of 313 derailments and 293 level crossing accidents. Human error accounted for 86% of total accidents! Amongst these, 40% accidents were due to failure of railway staff. However equipment problems were responsible for only 2.2% of total accidents.
Love India news?


Stay updated with the latest happenings.
22 Feb 2017

PMO warns Railways, asks to fix safety issues
Railways' deteriorating performance?

Railways started using 50% of its planned expenditure only in the last quarter. In 2016, as opposed to a target of 1,500 km, only 531 km was achieved. Against an electrification target of 2,000 km; only 1,210 km was covered.
14 Mar 2017

18 train sabotage incidents in first 60 days of 2017
The Railway Ministry said that this year there have been 40 incidents of sabotage between Jan-Feb along the railways tracks, as opposed to 45 such cases in all of 2016.
Official said the "rise in numbers is also because now the level of attention to such incidents is at its highest."
Sources said Mumbai witnessed a majority of such cases.
17 Mar 2017

2 killed every 3 days in train accidents
Data revealed that of the 1018 train accidents in the last 8 years, only 4.7% of them were caused by sabotage. In addition, the 1018 accidents took 1940 lives and injured over 3200.
44% of these accidents were caused by failure or mistakes made by railway staff.
There is also an overwhelming shortage of railway safety staff, leading to overworking.