India
Plastic currency to outwit counterfeiters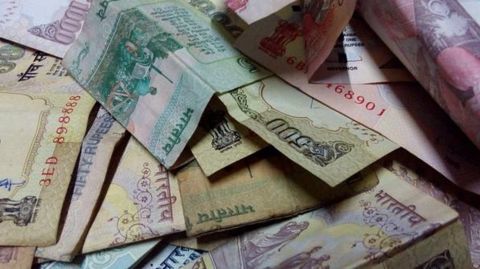 The government said that it would begin printing plastic currency notes and that procurement of materials is underway; the move seeks to thwart the efforts of counterfeiters.
Minister of state for finance Arjun Ram Meghwal said the notes would be printed on plastic or polymer-substrate.
In 2014, the government had introduced plastic Rs.10 notes in Kochi, Mysore, Jaipur, Shimla and Bhubaneswar for field tests.
In context:
Fake currency supply threatens Indian economy
About

The Fake Currency menace
India is predominantly a cash-based economy and therefore fake currency notes are a menace.
According to reports, at any given time, banknotes with a face value of Rs 400 crore are in circulation in India.
Every year fake currency notes amounting to Rs 70 crore are infused into the Indian economy and enforcement agencies can trace only one-third of the fake currency in circulation.
About

The crux of the problem
Legal Indian currency is printed on mints in Karnataka, Madhya Pradesh, Maharashtra and West Bengal.
The paper can be imported from eleven companies that supply currency paper globally. The security ink on currencies is sourced from only one Swiss company.
Indian security agencies have long suspected that anti-India elements are able to access genuine currency-paper by successfully compromising some employees at these companies.
Love India news?


Stay updated with the latest happenings.
Who profits from fake currency?

According to reports by Intelligence Bureau, Research and Analysis Wing and CBI, Pakistan's military agency, ISI annually earns Rs. 500 crore by pumping counterfeit notes in India; the ISI receives a 30-40% share of the face-value of each counterfeit Indian note produced in Pakistan.
Details

Impact on the economy
A US Department of State report observed that India was witnessing an inflow of high-quality counterfeit notes.
It stated that the fake currency from Pakistan was used by criminals to exchange counterfeit currency for genuine ones. This facilitated money laundering and threatened to destabilize the Indian economy.
Counterfeit money increases the money in circulation, alters purchasing power and upsets the demand and supply balance.
Crippling the economy

Deputy Commissioner of Police (Special Cell), Sanjeev Yadav said, "Fake currency is being pumped into India to cripple the country's economy. Malda has become the epicentre of narcotics and counterfeit currency rackets due to its strategic location close to the international border."
Stringent measures

How does the Indian Government tackle this menace?
Smuggling or circulation of Indian paper currency, coin or any other material is now an 'act of terror' under the Unlawful Activities (Prevention) Act, 1967.
India continually makes design changes in currency and works on enhancing technical capabilities of bank personnel to detect counterfeits.
Pre-2005 currency notes lacking security features were withdrawn.
India recently executed an MoU with Bangladesh for information-sharing on currency smuggling.
Love India news?


Stay updated with the latest happenings.
Details

Other countries facing counterfeiting menace
Countries like Australia, Canada, Taiwan, US and the EU bear the brunt of counterfeit currency.
High-quality counterfeit U.S. dollars are allegedly printed across countries including North Korea, China and Russia.
According to U.S. officials, counterfeiting of U.S. dollars in North Korea possibly has government support.
To tackle this scourge, Australia and Canada introduced counterfeit-resistant polymer notes whereas others make frequent anti-forgery changes in currency-design.
09 Dec 2016

Plastic currency to outwit counterfeiters
02 Apr 2017

Govt to change security features on notes every 3-4 years
At a meeting held between senior officials of the Finance and Home Ministries, it was decided that the security-features of Rs. 2000 and Rs. 500 notes would be changed every 3-4 years.
The move is aimed at checking counterfeiting and also to keep India at par with global currency security standards.
Recently confiscated counterfeit new-notes, had several of the new security features in them.