India
Suresh Prabhu asks Railways officials to crackdown on train delays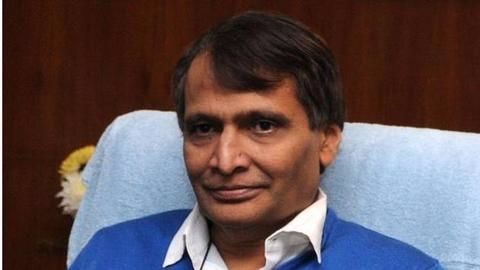 Union railways minister Suresh Prabhu has asked all Indian Railways officials to check delays in train schedules and rectify the issue, else they would face action.
From 84% punctuality rate last year, train punctuality has reduced to 79% this year. He demanded immediate corrective measures.
He recommended posting senior officers on the night shift so they can oversee operations and resolve the issue.
In context:
Indian Railways changing for the better
Introduction

About the Indian Railways
Indian Railways (IR) is an enterprise owned and operated by the Indian Government through the Railway Ministry.
IR is one the largest rail networks in the world comprising 115,000km-long track over a route of 67,312 km and 7,112 stations.
Railways were first introduced in India in 1853 from Mumbai to Thane.
In 1951, railways were nationalized as a single unit - the Indian Railways.
Indian Railways

Modernizing the railway network in India
Indian Railways is one of the largest in the world with trains ferrying about 23 million people in a day.
After Narendra Modi had become the Prime Minister in May 2014, he has devised several plans to upgrade and modernize the Indian railways.
Minister for Railways Suresh Prabhu who assumed the post in Nov'14 announced several plans to revamp the railway network.
Love India news?


Stay updated with the latest happenings.
Initiatives

Minister Suresh Prabhu's initiatives
Apart from introducing new trains and train stops, Suresh Prabhu announced several projects including Wi-Fi to passengers, drone surveillance, user-friendly ticketing, etc.
He aimed at saving and neutralized most of the shortfall in revenue.
Superfast, onboard entertainer, bullet, double-decker trains are being introduced in India.
IRCTC RuPay prepaid card for booking tickets and cash on delivery of tickets were initiated to make ticketing easy.
Changes

Indian Railways' exciting changes
Indian Railways introduced 'executive lounges' to provide passengers an airport-like experience at stations.
From 1 Jun'16, 50% refund on Tatkal ticket cancellations was introduced while an extra charge for using credit/debit card at reservation counters was dropped.
Passengers can now book tickets online in several regional languages.
Waitlisted Rajadhani Express travelers now have the option to get an Air India ticket to their destination.
Massive budget for railways revamp

Modernisation of railways is being done under a $130bn, five-year project. A $15bn fund has been diverted only for rail safety; accidents due to track defects have increased 25% in two years.
19 Apr 2017

Suresh Prabhu asks Railways officials to crackdown on train delays